Coming this Summer & Fall: Man of the Shroud Exhibit Tour across Nebraska & western Iowa! 
Exhibit Tour Promo Video:
Tour Exhibit will include:
– *Rare viewing* of a full-size replica of the Shroud of Turin
– Replicas of the Crown of Thorns, whip, nails and Holy Sponge
– Spirit Catholic Radio's 42-panel information display
– Confessions, Eucharistic Adoration and Benediction (at participating parishes)
Tour speakers with full presentation: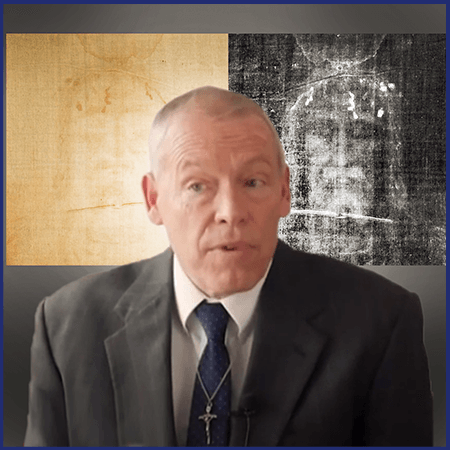 Jim Bertrand – M. Ed. & Shroud Expert
Mr. Bertrand is Nebraska's local Shroud expert speaker and has been presenting on the Shroud for several years. Along with his powerful presentation, he brings with him a full-size replica of the Holy Shroud. We encourage parishes reserving the Man of the Shroud exhibit throughout the year to check his availability (details below).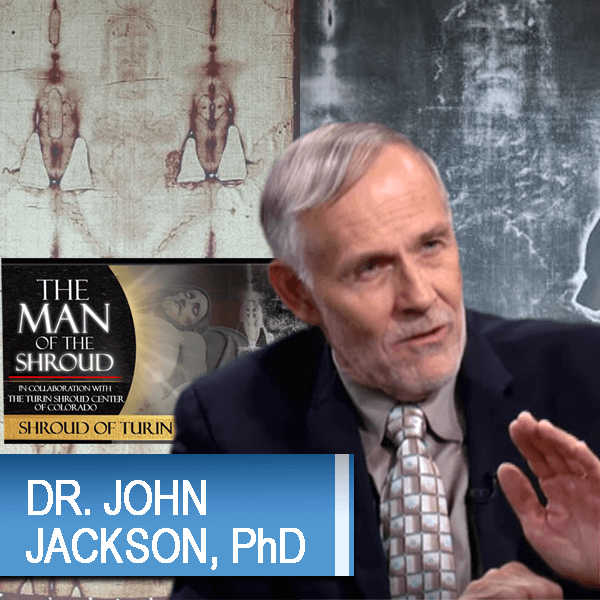 Dr. John Jackson, PhD –  Sept. 12 & 13 in Lincoln & Omaha Only!
Dr. John Jackson, a PhD in physics, together with his wife, Rebecca, leads the team of scientific studies at the Turin Shroud Center of Colorado. In addition to conducting Shroud research, he has taught at the university level for many years . In 1978, when interest in the Shroud was at its height, Dr. Jackson led a 40-person team of international scientists to Turin where they, under the auspices of the Shroud of Turin Research Project (STURP), examined the Shroud for nearly a week. No one since that time has secured such full scientific research access to the cloth. See Dr. Jackson's talk at St. Robert Bellarmine in Omaha on Saturday, Sept. 12 or in Lincoln at St. Thomas Aquinas on Sunday Sept. 13. 
---
Shroud Tour Schedule (full schedule pending)

July 12 | St. Cecilia (Hastings)
Aug 22 | St. Agnes (Scottsbluff)
Aug. 23 | St. Patrick (Sydney)

Aug. 30 | St. Elizabeth Ann Seton (North Platte)
*Sept. 12 | St. Robert Bellarmine (Omaha)

*Sept. 13 | St. Thomas Aquinas / Newman Center (Lincoln)

 Sept. 20 | Prince of Peace (Kearney)

Oct. 4 | Corpus Christi (Council Bluffs, IA)

Nov. 15 | Our Lady of the Holy Rosary (Glenwood, IA)

---

Below is information about reserving the Man of the Shroud exhibit (free) for your parish. Please note, this is different than requesting to be part of our Exhibit Tour above.  Reservation dates will not be available June-September 2020 as the exhibit goes on tour.
Spirit Catholic Radio presents a brand-new traveling exhibit The Man of the Shroud, a visual display of the power, history and science behind the Shroud of Turin. This powerful exhibit features beautifully-designed panels that will raise the questions, "Could the Shroud be the most important archaeological artifact ever found?" and Does it provide clues to what happened during the crucifixion and resurrection of Jesus?" Spirit Catholic Radio is making this exhibit available to parishes and organizations to borrow at no cost.
To bring the Man of the Shroud to your group, complete our online request form by clicking the following button:
---
Resources: Download Guide
---
Frequently Asked Questions
What is included in the exhibit?
The exhibit contains 42 (5'x2′) vinyl panels explaining the Shroud, replicas of the Crown of Thorns, nails, whip and Holy Sponge.
Is the actual Shroud included in the exhibit?  The "true" Shroud is kept in a climate-controlled container at the Cathedral of St. John the Baptist in Turin, Italy, and is rarely available for viewing to the public. However, there are replicas available for viewing. Jim Bertrand in Lincoln has a  replica which he brings to his presentations. Any school, parish or other group who would like to host Mr. Bertrand's Shroud presentation should contact him at [email protected]
How big is the exhibit?
The exhibit includes 42, 2'x5' vinyl panels.
How many days can I reserve the exhibit?
Up to two weeks. Some exceptions may be allowed.
Will you send me a promotional flyer?
Yes, we will e-mail a full-color flyer. It is up to the requester to print and hang the flyer.
Will you send me a bulletin announcement and a pulpit announcement?
Yes, we will email the text which can be copied into the bulletin along with the flyer.
How big of a car do I need to transport the exhibit?
The materials will fit in the back seat or trunk of most vehicles. There are two golf bags which contain the stands and panels, plus a small bookbag which contains free materials to be displayed on a small table near the exhibit entrance.
Where do I pick up and return the exhibit?
The exhibit can be picked up at either the Lincoln or Omaha studio locations.
---
For details about the Man of the Shroud exhibit, including reservations, promotion, set-up and specifications, please see our Guide for Parishes and Organizations.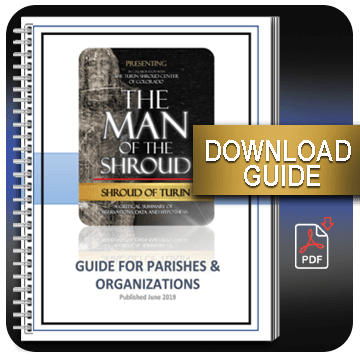 Questions? Call us at 855-571-0200 or email [email protected].
---
Other exhibits: