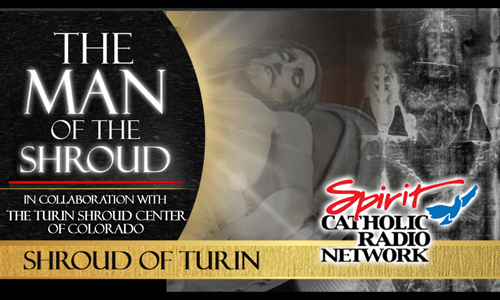 Spirit Catholic Radio presents a brand-new traveling exhibit The Man of the Shroud, a visual display of the power, history and science behind the Shroud of Turin. This powerful exhibit features beautifully-designed panels that will raise the questions, "Could the Shroud be the most important archaeological artifact ever found?" and Does it provide clues to what happened during the crucifixion and resurrection of Jesus?" Spirit Catholic Radio is making this exhibit available to parishes and organizations to borrow at no cost.
To bring the Man of the Shroud to your group, complete our online request form by clicking the following button:
---
Resources: Download Guide | Parish Promotion Flyer
---
Frequently Asked Questions
Is the actual Shroud included in the exhibit?
Unfortunately, no.  The exhibit only contains 42 panels explaining the Shroud. The "true" Shroud is kept in a climate-controlled container at the Cathedral of St. John the Baptist in Turin, Italy, and is rarely available for viewing to the public. However, there are replicas available for viewing. Jim Bertrand in Lincoln has a  replica which he brings to his presentations. Any school, parish or other group who would like to host Mr. Bertrand's Shroud presentation should contact him.
How big is the exhibit?
The exhibit includes 42, 2'x5' vinyl panels.
How many days can I reserve the exhibit?
Up to two weeks. Some exceptions may be allowed.
Will you send me a promotional flyer?
Yes, we will e-mail a full-color flyer. It is up to the requester to print and hang the flyer.
Will you send me a bulletin announcement and a pulpit announcement?
Yes, we will email the text which can be copied into the bulletin along with the flyer.
How big of a car do I need to transport the exhibit?
The materials will fit in the back seat or trunk of most vehicles. There are two golf bags which contain the stands and panels, plus a small bookbag which contains free materials to be displayed on a small table near the exhibit entrance.
Where do I pick up and return the exhibit?
The exhibit can be picked up at either the Lincoln or Omaha studio locations.
---
For details about the Man of the Shroud exhibit, including reservations, promotion, set-up and specifications, please see our Guide for Parishes and Organizations.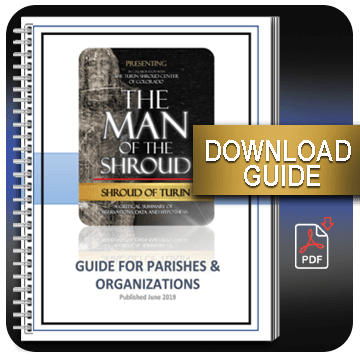 Questions? Call us at 855-571-0200 or email events@kvss.com.
---
Other exhibits: