Spirit Catholic Radio is excited to provide you three powerful exhibits and multiple visual aides to bring to your parish or event.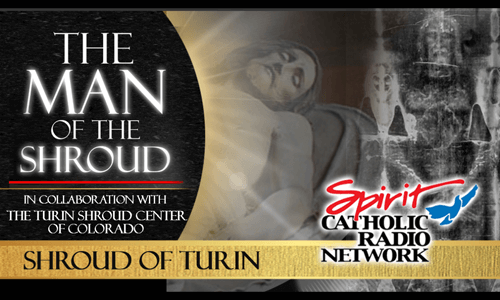 Spirit Catholic Radio presents a brand-new traveling exhibit The Man of the Shroud, a visual display of the power, history and science behind the Shroud of Turin. This powerful exhibit features beautifully-designed panels that will raise the questions, "Could the Shroud be the most important archaeological artifact ever found?" and Does it provide clues to what happened during the crucifixion and resurrection of Jesus?"
---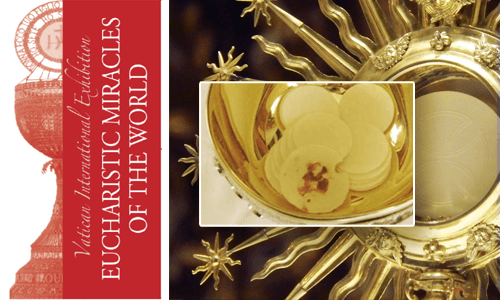 Eucharistic Miracles of the World| The Congregation for the Doctrine of the Faith, wants this exhibition to be displayed in every parish in the world. Spirit Catholic Radio is proud to offer this display to area organizations in order to promote Eucharistic Adoration and for the further evangelization of world.
---
Carlo Acutis' Appeals of Our Lady – Apparitions and Marian Shrines of the World | The exhibit is presented in the United States by the Real Presence Eucharistic Education and Adoration Society. It features beautiful panels highlighting Marian Apparitions around the world. They include stunning images of Mary as well as well-documented facts and historical information about the apparitions. All of the apparitions displayed in this exhibition have been recognized by their local bishops. The display's purpose is to increase the faith of people on earth through awareness of the miracles of Marian apparitions.
---
Share The Spirit!
As Catholics, we're called to share the Good News of Jesus Christ with others. This is Spirit Catholic Radio's mission. We want all people to have a personal encounter with Jesus Christ. We work toward this mission by broadcasting the Gospel message over the radio airwaves, but we also rely on you, our listeners, to help.
If you love Spirit Catholic Radio and would like to help "Share the Spirit," here are a few ideas to help you get started:
Visit our Omaha studio location to pick up tune-in cards (or call us and we'll mail them to you!) to hand out to friends, family, neighbors or even strangers. Encourage them to listen to Spirit Catholic Radio. Tip: You might even share a program that you think they'd enjoy listening to.
Leave tune-in cards (see above regarding how to get these cards) at the gym, in a shopping cart, in a bill you're mailing or another public place. You never know who will see the card and tune in.
Pay it forward: Pay for the coffee of the car behind you in line. Be sure to ask the cashier to hand the person behind you a Spirit Catholic Radio tune-in card.
Submit a message about Spirit Catholic Radio to your parish bulletin.
Place a Spirit Catholic Radio bumper sticker on your vehicle. To get your free bumper sticker, please visit our studio location in Omaha or call 855.571.0200.
Display a Spirit Catholic Radio yard sign in your yard. To get your free yard sign, please visit our studio location in Omaha or call 855.571.0200.
"Like" Spirit Catholic Radio on Facebook and share the page and its posts with your friends and family. Click here to visit our page.
Become a Spirit Catholic Radio volunteer. Fill our our volunteer form here.
Pray for the mission of Spirit Catholic Radio daily. You can also join our Prayer Apostolate. The Apostolate prays for the mission of Spirit Catholic Radio and you'll receive one email per month with special intentions. Email us to be added to the Apostolate.