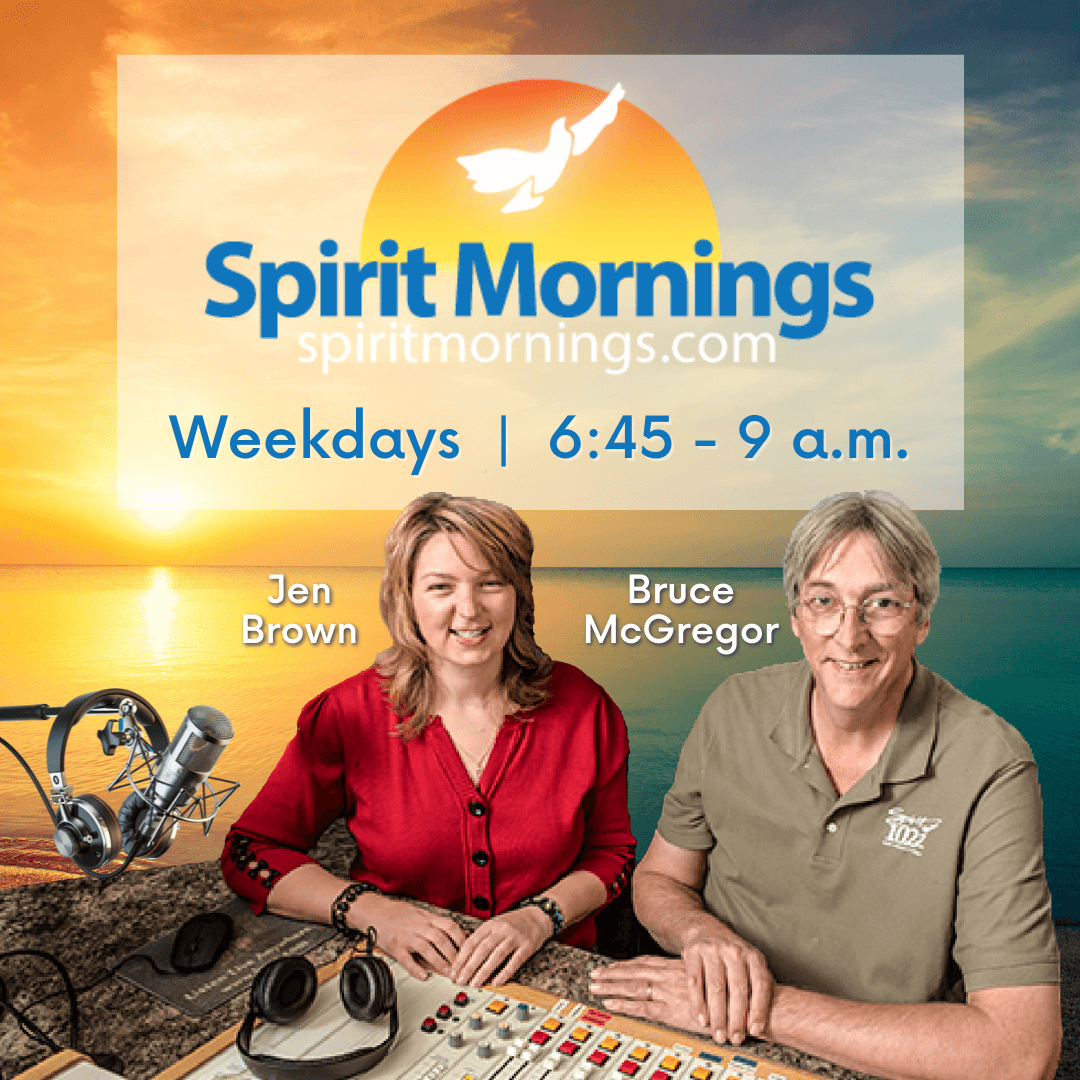 Details
Weekdays 6:40 - 9 a.m. Upcoming guest schedule is found below!
Wake up with Spirit! Weekdays from 6:45 to 9:00 a.m. we bring you our locally-produced Catholic morning show, Spirit Mornings, with Bruce and Jen. The Spirit Mornings team brings you Catholic news, local news and weather, interviews with local priests that you know, national guests, and so much more. All centered on our aim for YOU to encounter Jesus!

*Weekend Edition Saturday from 6:00-6:30 a.m., and Saturday evenings at 5:30 p.m.
Contact Spirit Mornings: Bruce McGregor | Jen Brown
On-Air: 1-855-571-1027
Scroll down to access the previous week's audio, listener-favorite segments, and more!
Upcoming Guests on Spirit Mornings 
Tuesday, May 24
Good Book Club – Sharon Doran – Exodus 3
Peter Durak – Director of "Intentional Disciples" (intentionaldisciples.com) – The 4 big questions Millennials are asking.
Ask a Priest - Fr. Andrew Heaslip's final ! Submit your question HERE
Mark Voris – Spirit Catholic Radio team member
Wednesday, May 25
Good Book Club – Jeff Foreman – Exodus 4
Deacon George Butterfield – Discerning the will of God
Camille Pauley – President of "Healing the Culture" – Their video teaching children to respect human life.
Chloe Langer - Author and host of the popular "Letters to Women" podcast which offers a practical guide to Catholic women discerning, developing, and keeping authentic friendships.
Thursday, May 26
Good Book Club – Josh Burks – Exodus 5
Fr. James Kubicki – Feast of The Ascension
Michael Emerick – Archdiocese of Omaha revival
Friday, May 27
Good Book Club – Dan Connelly – Exodus 6
Sunday Mass Prep – Fr. Jeff Loseke - hear a summary of this Sunday's Mass
Laura Buddenberg - Essential Pregnancy Services, living pro-life with your family
Cat-E-Quiz-'em – Call in and win prizes
---
Audio From This Week
Bruce McGregor
Spirit Mornings Co-Host Bruce McGregor - Bruce McGregor is co-host of Spirit Mornings, having been with Spirit Catholic Radio since 2004. He said he believes God
Learn More
Jen Brown
Spirit Mornings Co-Host Jen Brown -  Jen Brown was born and raised in the metro area. She is a Council Bluffs, Iowa gal and churchgoer (Corpus
Learn More