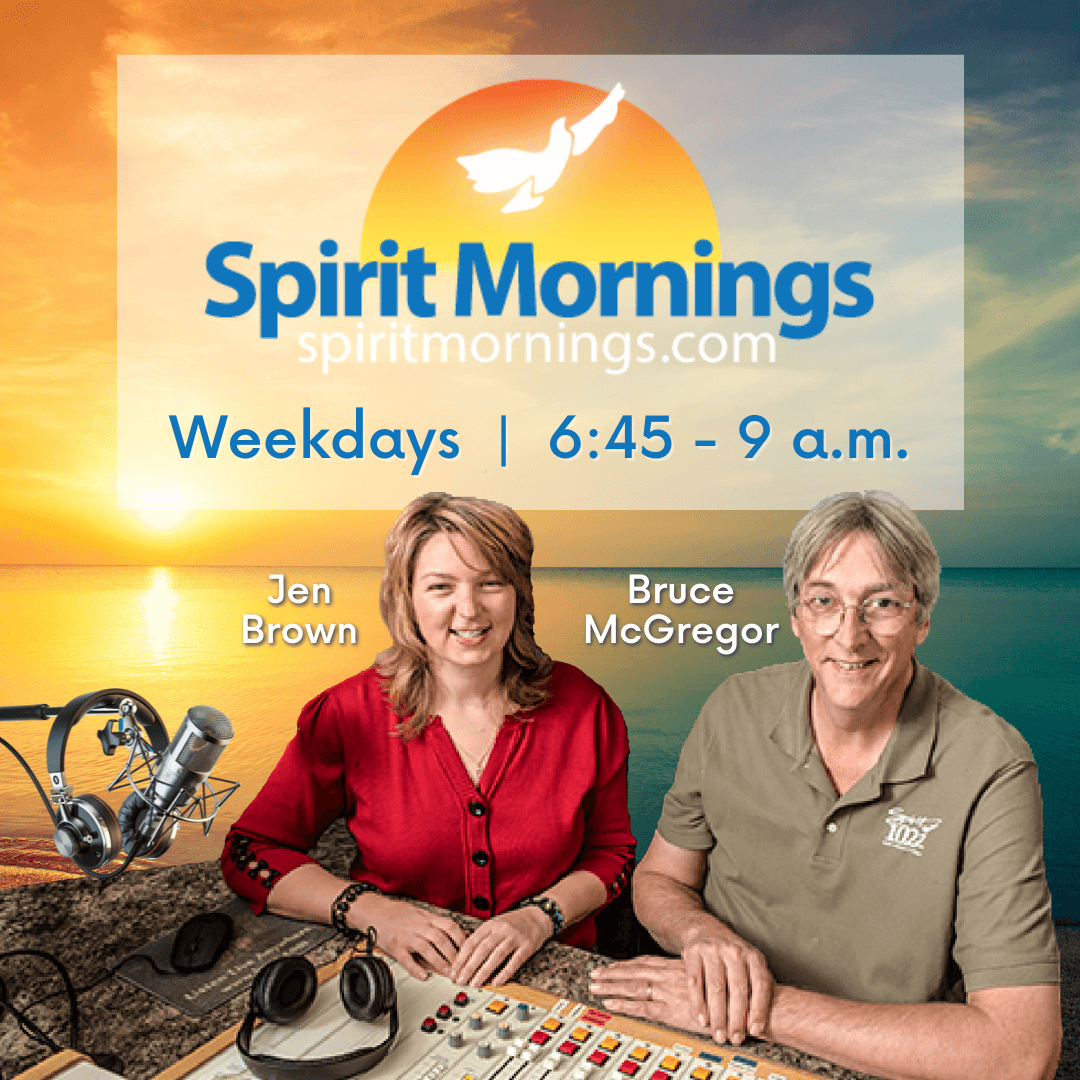 Details
Weekdays 6:40 - 9 a.m. Upcoming guest schedule is found below!
Wake up with Spirit! Weekdays from 6:45 to 9:00 a.m. we bring you our locally-produced Catholic morning show, Spirit Mornings, with Bruce and Jen. The Spirit Mornings team brings you Catholic news, local news and weather, interviews with local priests that you know, national guests, and so much more. All centered on our aim for YOU to encounter Jesus!

*Weekend Edition Saturday from 6:00-6:30 a.m., and Saturday evenings at 5:30 p.m.
Contact Spirit Mornings: Bruce McGregor | Jen Brown
On-Air: 1-855-571-1027
Scroll down to access the previous week's audio, listener-favorite segments, and more!
Upcoming Guests on Spirit Mornings 
Friday, June 24
Mass Prep - Fr. Padraic Stack, hear a summary of Sunday's readings
Good Book Club - Dan Connelly - Matthew 2
Cat-e-Quiz'em - Call 855.571.1027 and WIN prizes
Fr. Michael Voithofer - Encounter School of Ministry information
Monday, June 27
Melissa Overmyer - Author "From Worry to Wonder: A Catholic Guide to Finding Peace Through Scripture"
Good Book Club - Dcn. Jay Reilly, Matthew 2:13-23
Catholic Charities Omaha
Tuesday, June 28-30
3 Days of Summer Fun! Great music, laughter, and a reminder why we all love Catholic radio!!! Come visit our staff at these locations in Nebraska. TUNE IN LIVE HERE!
Friday, June 30
Mass Prep - Hear a summary of this Sunday's readings with Fr. Bernard Kimminau
Pro-Life Services - Laura Buddenberg (Essential Pregnancy Services) and Karen Bowling (Nebraska Family Alliance)
Good Book Club - Chad Steiner, Matthew 3
Cat-e-Quiz'em - Call 855.571.1027 and WIN prizes
---
Audio From This Week
Bruce McGregor
Spirit Mornings Co-Host Bruce McGregor - Bruce McGregor is co-host of Spirit Mornings, having been with Spirit Catholic Radio since 2004. He said he believes God
Learn More
Jen Brown
Spirit Mornings Co-Host Jen Brown -  Jen Brown was born and raised in the metro area. She is a Council Bluffs, Iowa gal and churchgoer (Corpus
Learn More