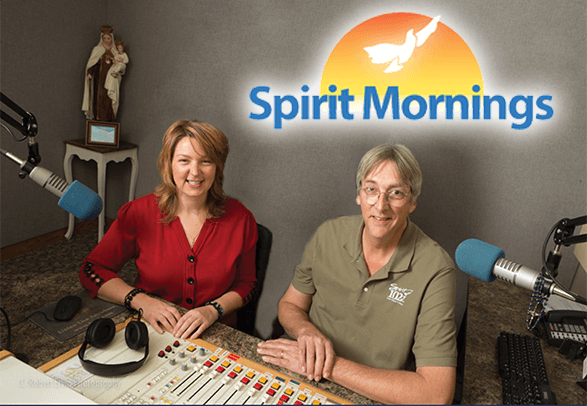 Details
Weekdays 6:40 - 9 a.m. Upcoming guest schedule is found below!
Wake up with Spirit! Weekdays from 6:45 to 9:00 a.m. we bring you our locally-produced Catholic morning show, Spirit Mornings, with Bruce and Jen. The Spirit Mornings team brings you Catholic news, local news and weather, interviews with local priests that you know, national guests, and so much more. All centered on our aim for YOU to encounter Jesus!

*Weekend Edition Saturday and Sunday from 6:00-6:30 a.m., and Saturday evenings at 5:30 p.m.
Contact Spirit Mornings: Bruce McGregor | Jen Brown
On-Air: 1-855-571-1027
Scroll down to access the previous week's audio, listener-favorite segments, and more!
SHOW NOTES - Upcoming Guests on Spirit Mornings
---
Tuesday, July 27 - Good Book Club/Fr. Matthew Rolling - Proverbs 31:1-9 - Ask-a-Priest/Fr. Heaslip - Submit your question here - Megan Drapa - Vitae pwhcenters.org - Kris McGregor - Discerning Hearts, Saints and the Eucharist
Wednesday, July 28 - Good Book Club/Dcn. Dick Petersen - Proverbs 31:10-31 - Fr. Kenneth Borowiak - Growing the Kingdom through the new St. Michael church in Lincoln, NE - Fr. James Kubicki - St. Francis Mission President - Teresa Kenney - resources for Natural Family Planning (NFP)
Thursday, July 29 - Good Book Club/Fr. Zuerlein - 2Timothy 2:1-13 - TJ Ernst - Bethlehem House Omaha new Executive Director - Bob Sullivan - Catholic columnist - NE Catholic Conference - Legislative update
Friday, July 30 - Good Book Club/Fr. Toby Letak - 2 Timothy 2:14-3:9 - Mass Prep/Fr. Padraic Stack - hear a summary of this Sunday's upcoming readings - Laura Buddenberg - Essential Pregnancy Services, building a pro-life culture in the family - Cat-e-Quiz'em - win PRIZES!
Audio From This Week
Bruce McGregor
Spirit Mornings Co-Host Bruce McGregor - Bruce McGregor is co-host of Spirit Mornings, having been with Spirit Catholic Radio since 2004. He said he believes God
Learn More
Jen Brown
Spirit Mornings Co-Host Jen Brown -  Jen Brown was born and raised in the metro area. She is a Council Bluffs, Iowa gal and churchgoer (Corpus
Learn More