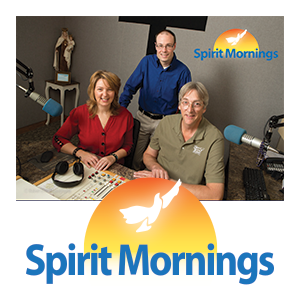 Details
Weekdays 6:40 - 9 a.m.
Wake up with Spirit! Every weekday from 6:40 to 9:00 a.m. we bring you locally-produced Catholic morning show, Spirit Mornings, with Bruce McGregor, Jen Brown and Matt Willkom. The Spirit Mornings team brings you Catholic news, local news and weather, interviews with local priests and guests and so much more–all from our studios in Omaha, Neb.
Monday through Friday
6:40 to 9:00 a.m.
Click here for where to listen.
1-855-571-1027
Show Notes
Anderson Family Donates Caring Cradle 
Hear a powerful, emotional Spirit Mornings interview with
Dani Anderson
. She and her family were responsible for donating a special Caring Cradle to Methodist Women's Hospital in Omaha after the death of their baby boy, Ellis. The Caring Cradle is a special cooling cradle that that allows a dignified means for parents and families to spend more time with a baby who has passed. This support tool is for any family whose baby has died. In the past families were limited to morgue visits, packing a infant in ice, turning the temperature down in rooms and other antiquated means born out of necessity. The Caring Cradle provides families with a tool to allow an appropriate atmosphere to say goodbye to their baby.  
Click here to listen. Click here to view the Go Fund Me page for this cause.
Audio From This Week