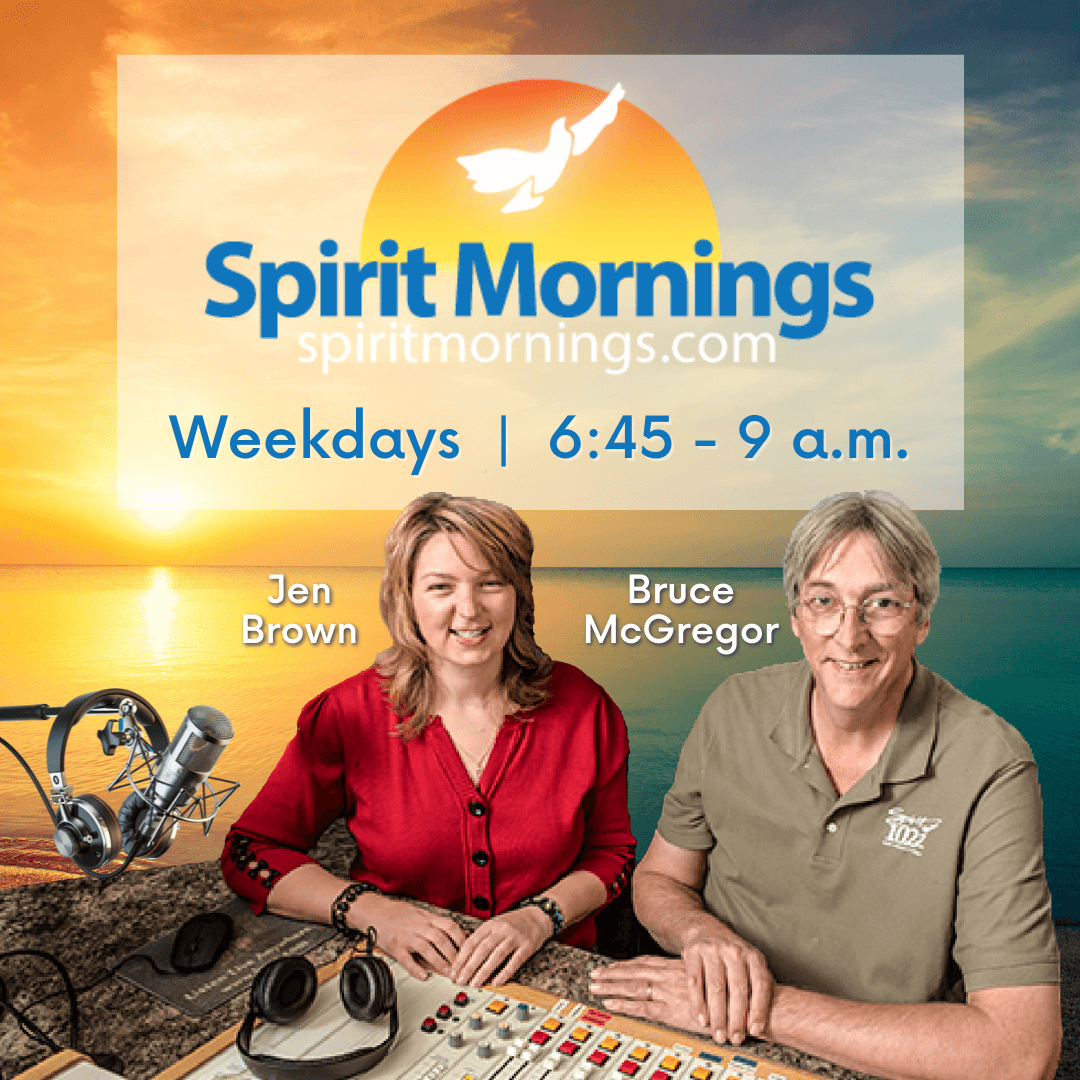 Details
Weekdays 6:40 - 9 a.m. Upcoming guest schedule is found below!
Wake up with Spirit! Weekdays from 6:45 to 9:00 a.m. we bring you our locally-produced Catholic morning show, Spirit Mornings, with Bruce and Jen. The Spirit Mornings team brings you Catholic news, local news and weather, interviews with local priests that you know, national guests, and so much more. All centered on our aim for YOU to encounter Jesus!

*Weekend Edition Saturday and Sunday from 6:00-6:30 a.m., and Saturday evenings at 5:30 p.m.
Contact Spirit Mornings: Bruce McGregor | Jen Brown
On-Air: 1-855-571-1027
Scroll down to access the previous week's audio, listener-favorite segments, and more!
SHOW NOTES - Upcoming Guests on Spirit Mornings
Monday, October 25 - Dr. Greg and Lisa Popcak - authors of Parenting Your Kids With Grace and Parenting Your Teens and Tweens with Grace. Hear the Popcak's on  More 2 Life Tuesday - Thursday at 9 a.m. CT on Spirit Catholic Radio - Good Book Club/Dcn. Michael Carney - Luke 10:1-24 - Sr. Faustina - catholic author - Katie Zulanas - Couple to Couple League teaching Natural Family Planning
Tuesday, October 26: - Good Book Club/Fr. Bill Cremers - Luke 10:25-37 - Ask-a-Priest/Fr. Andrew Heaslip - ask your question HERE - Dcn. Jim Keating - new book Configured to Christ - Professor Christopher Malloy - author False Mercy
Wednesday, October 27: - Good Book Club/Dcn. Fred Abboud - Luke 10:38 – Luke 11:13 - Karlo Broussard - author Purgatory is for Real - Mandy Busch - Alpha course information - Jim Carroll - Spirit Catholic Radio team member
Thursday, October 28 - Good Book Club/Dcn. George Butterfield - Luke 11:14-36 - Diane McKee - Abuse and assault advocate - Carl Christensen - HOPE2021 Adoption Conference
Friday, October 29: - Good Book Club/Dcn. Jay Reilly - Luke 11:37-54 - Heidi Hess Saxson - The Ave Prayer Book for Catholic Mothers - Mass Prep/Fr. Padraic Stack - hear a summary of this Sunday's upcoming readings - Cat-e-Quiz'em - call in and WIN prizes!
Audio From This Week
Bruce McGregor
Spirit Mornings Co-Host Bruce McGregor - Bruce McGregor is co-host of Spirit Mornings, having been with Spirit Catholic Radio since 2004. He said he believes God
Learn More
Jen Brown
Spirit Mornings Co-Host Jen Brown -  Jen Brown was born and raised in the metro area. She is a Council Bluffs, Iowa gal and churchgoer (Corpus
Learn More