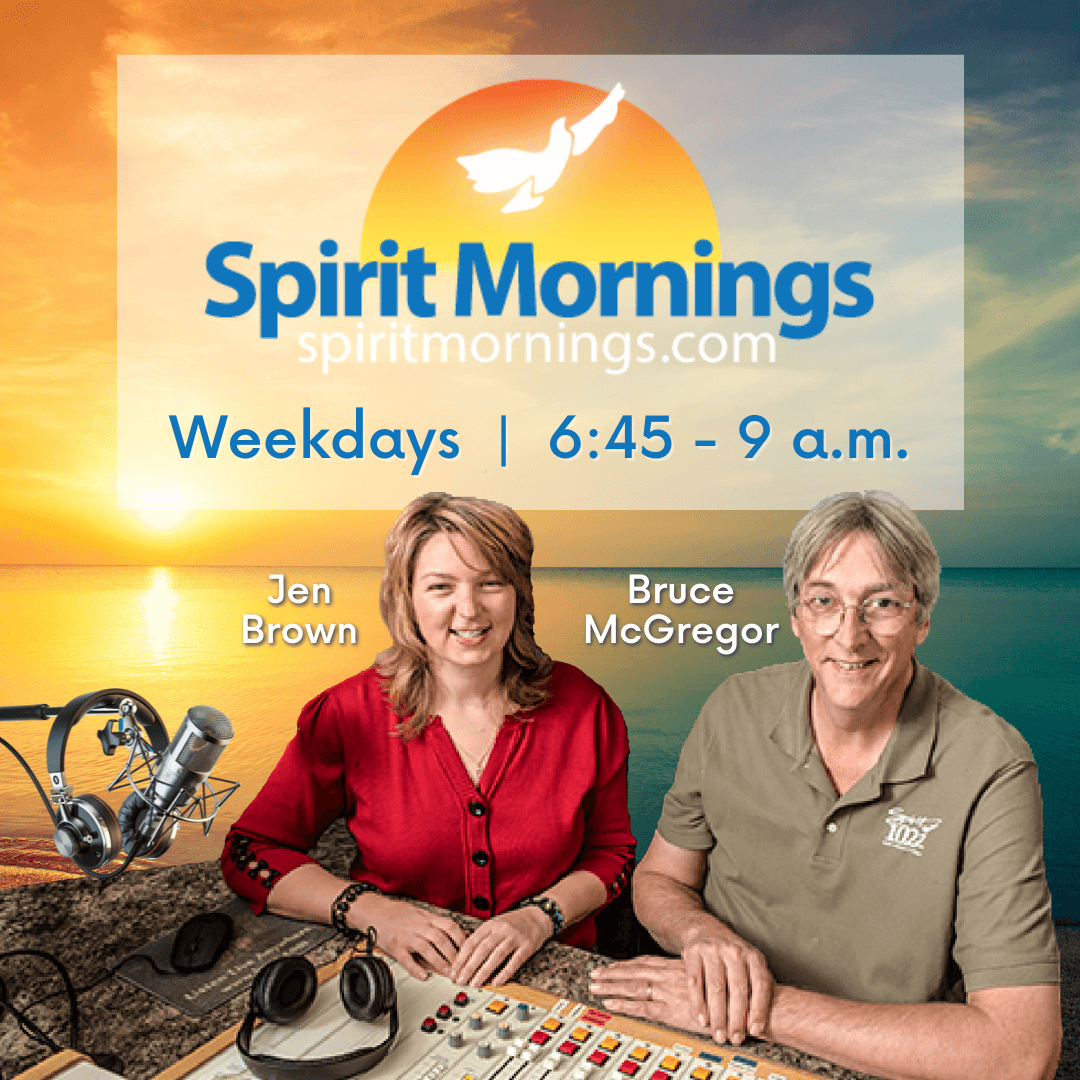 Details
Weekdays 6:40 - 9 a.m. Upcoming guest schedule is found below!
Wake up with Spirit! Weekdays from 6:45 to 9:00 a.m. we bring you our locally-produced Catholic morning show, Spirit Mornings, with Bruce and Jen. The Spirit Mornings team brings you Catholic news, local news and weather, interviews with local priests that you know, national guests, and so much more. All centered on our aim for YOU to encounter Jesus!

*Weekend Edition Saturday from 6:00-6:30 a.m., and Saturday evenings at 5:30 p.m.
Contact Spirit Mornings: Bruce McGregor | Jen Brown
On-Air: 1-855-571-1027
Scroll down to access the previous week's audio, listener-favorite segments, and more!
Upcoming Guests on Spirit Mornings 
September 26-30 - Care-a-thon week!
Special guests
will include Timmerie, Cy Kellett, Joe Heschmeyer, Bishop Hanefeldt, Archbishop Lucas, Bishop Golka, Fr. Dave Korth, Fr. Ryan Lewis, and more!
learn more about the care-a-thon
Monday, October 3
Steven Mosher - President of Population Research institute
Mary Pezzulo - Author of "Stumbling into Grace - How We Meet God in Tiny Works of Mercy"
Good Book Club - Dcn. Michael Carney, Numbers 14:11-25 (Moses Intercedes for the People)
Laraine Bennett - Author of "The Little Way of Living with Less" - do your possessions "spark joy"? A spiritual journey guided by St. Therese of Lisieux toward a "less is more" manner of living
Tuesday, October 4
Fr. James Kubicki - Saint Francis de Sales Seminary Milwaukee, Feast of St. Francis of Assisi
Ask-a-Priest - Submit your question for Fr. Joseph Taphorn here
Good Book Club - Fr. Owen Korte, Numbers 14:26-45 (God's Judgment on the People; Defeat at Hormah)
Lauren Bop and Ann Hobson - Omaha (OUCCW) Diaper Drive during October
Wednesday, October 5
Dr. Matthew Bunson – EWTN News Correspondent – A look at Catholic news stories
Kristen Van Uden – Author of "The Diary of St. Gemma"
Good Book Club – Deacon Patrick Simons - Numbers 15:32-16:11 (Consequences of Breaking the Sabbath Rest; Korah's Rebellion)
Jon Pruch – Member of Sons of Mary – Our Lady of Fatima event
Thursday, October 6
Nebraska Catholic Conference – NebraskaCatholicVoter.com website to learn more about candidates
Deacon Patrick Simons – Scriptural basis of the Eucharist
Good Book Club – Fr. Loras Grell - Numbers 16:12-35 (The Rebels Punished)
Kay Wessel – Lincoln Diocesan Council of Catholic Women (LDCCW) October Pro-Life Diaper Drive
Friday, October 7
Mass Prep – Fr. Padraic Stack – Hear a summary of this coming Sunday's Mass
Laura Buddenberg – Helping you live as a Pro-Life family
Good Book Club – Vern Steiner - Numbers 16:36-50 (Aaron Makes Atonement for the Congregation)
Cat-e-Quiz'em – Call in and WIN 855.571.1027
Monday, October 10
Catherine Hadro – EWTN news contributor – Pro-Life news
Pete Burak – director of Intentional Disciples
Good Book Club – Sharon Duran - Numbers 20:1-13 (Water from the Rock)
Raymond Arroyo – author of the book "The Wise Men Who Found Christmas"
Tuesday, October 11
Megan Drapa – Manager of Research and Education for the Vitae Foundation – How to speak the Pro-Life message
Ask a Priest – Submit your question for Fr. Joseph Taphorn here
Good Book Club – Deacon Jay Reilly - Numbers 22:1-20 (Balak Sends Messengers to Balaam)
Fiorella de Maria – bringing the life of St. Maximilian Kolbe for kids in her book "St. Maximilian Kolbe A Hero of the Holocaust"
---
Audio From This Week
Bruce McGregor
Spirit Mornings Co-Host Bruce McGregor - Bruce McGregor is co-host of Spirit Mornings, having been with Spirit Catholic Radio since 2004. He said he believes God
Learn More
Jen Brown
Spirit Mornings Co-Host Jen Brown -  Jen Brown was born and raised in the metro area. She is a Council Bluffs, Iowa gal and churchgoer (Corpus
Learn More