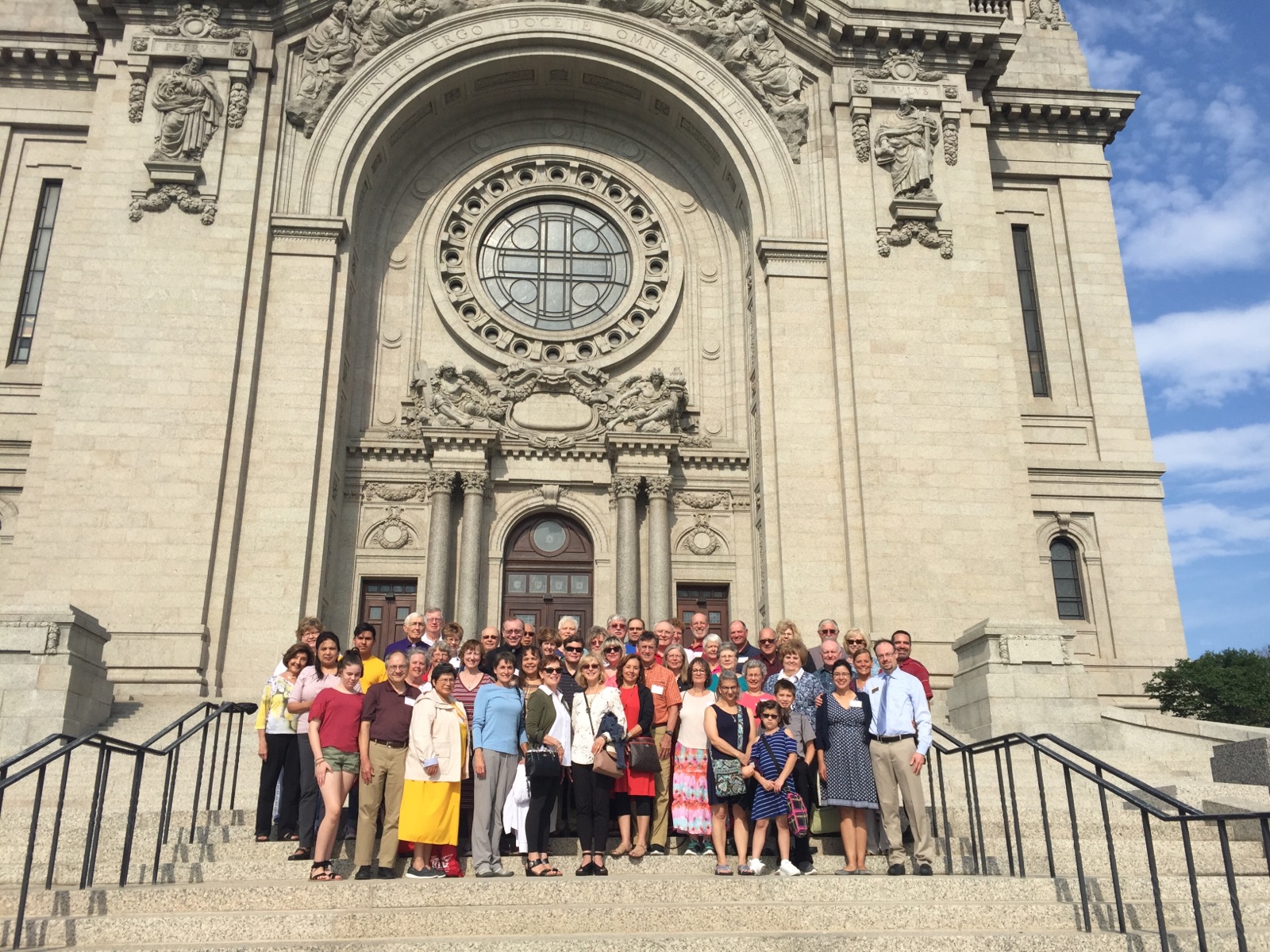 By: Matt Willkom, Spirit Mornings producer and co-host, and Shrines of the North Pilgrimage guide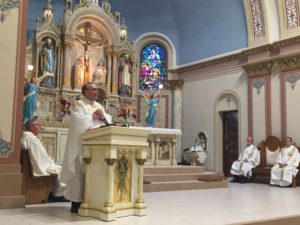 The Spirit Catholic Radio Shrines of the North Pilgrimage took 51 souls on an unforgettable journey through the upper Midwest in early August, as we experienced firsthand both the glory and loving providence of our heavenly Father. Highlights included the Grotto of the Redemption in West Bend, IA, the Shrine of Our Lady of Guadalupe in LaCrosse, the National Shrine of Mary Help of Christians at Holy Hill, and the National Shrine of the Apostle Paul (also known as the Cathedral of St. Paul). Pilgrims were treated to a traditional Door County fish boil, a winery tour and a stroll on the shores of Lake Michigan, plus a stop at the legendary SPAM Museum! A stop-off for Holy Mass and warm reception at St. Joseph Church in Boyd, WI – home to Spirit Catholic Radio affiliate WASB-LP – solidified the bonds of faith between Catholics across the network.
Upon reflecting over the many graces and blessings received on this pilgrimage, the consensus seemed to be that, despite its modest setting and relatively simple message, the National Shrine of Our Lady of Good Help in Champion, WI was the most powerful pilgrimage experience, as it is where the Church formally recognizes that the Queen of Heaven appeared in 1859, and where 12 years later she miraculously interceded for her children who were facing this country's most devastating wildfire yet to date. Separated from the group for a time in order to accompany a fellow pilgrim who had fallen ill, our wonderful spiritual advisor Fr. Loras Grell was reunited with the group (along with the other pilgrim – praise God) on the vigil of St. John Vianney, the patron saint of parish priests! As both the joys and challenges of pilgrimage presented themselves, it seemed that, at each step of the journey, yet another friend in the Lord was placed exactly where we needed them.
Accompanied and aided by his wife Elizabeth, tour host Matt Willkom of Spirit Catholic Radio answered the call of our Lady of Good Help to, "gather the children in this wild country and teach them what they should know for salvation," with several rounds of the popular Spirit Mornings game, "Cat-e-Quiz'em", as pilgrims won various prizes, including gift cards, CD's, books, and Spirit swag. Above all, pilgrims appreciated the opportunity to explore those beautiful and sacred places which exist right here in our own country, and, as one pilgrim put it, "for which one does not necessarily need a passport". Several pilgrims asked if other, similar pilgrimages might be planned for the near future. Special thanks goes out to Naomi Sucha and Kami Maloney from Travel & Transport, our coach driver "Mysterious" Dwight, as well as anyone who had a part in making the Spirit Catholic Radio Shrines of the North Pilgrimage such a huge success!