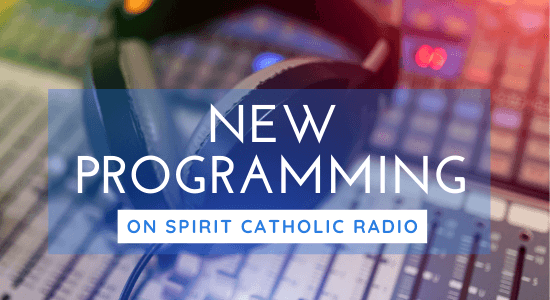 New Programming on the Spirit Catholic Radio Network
We are excited to introduce new programming for our listeners that we hope positively impacts your faith life in the same way our other programs do. They are detailed below, but don't forget to give our programming schedule and show descriptions a review as well.
Beloved and Blessed  |  9 p.m. CT Sunday – Based on the wisdom of Scripture, especially Proverbs 31, Beloved and Blessed speaks to the desires and strengths of women in all walks of life. Host Kimberly Hahn brings her decades of experience helping women live out their call to be daughters of God. Find inspiration, hope, and strength in each weekly episode.
Conversations with Consequences  |  4 p.m. CT Saturday – "Conversations with Consequences" is the voice of The Catholic Association, offering a weekly hour of thoughtful dialogue—with the leading thinkers of our time— on the most consequential issues of our day.
EWTN Pro-Life Weekly  |  7:30 p.m. CT Sunday – Every week, Catherine Hadro and a team of pro-life experts shine the light of truth on abortion, euthanasia, assisted suicide, and the culture of death.
Faith and Family Finance  | 9:45 a.m. CT Friday (Locally Produced) – Knights of Columbus field agent, John Soukup, invites you to tune in to Spirit Catholic Radio every Friday morning for Faith and Family Finance. Join him along with Knights of Columbus general agents Tony Swanson and Neil Pfeifer as they share different financial strategies and solutions to enhance and diversify your portfolio. It's also an opportunity to learn more about the Knights of Columbus founded by future saint, Blessed Father Michael J. McGivney.
Miracle Hunter  |  12 p.m. CT Saturday – 'Miracle Hunter' Michael O'Neill delves into the fascinating world of miracles and takes listeners on a hunt that explores the greatest mysteries and marvels of the Catholic Church. From visions of the Virgin Mary and inexplicable medical healings through the intercession of Saints to the miracles of the Eucharist and those who bear the wounds of Christ, listeners will journey through the wonders that have inspired the fascination and faith of believers for centuries.
Women Made New  |  8 p.m. CT Monday – Every week, author and speaker Crystalina Evert chats with her guests about the hard topics that women struggle with. She and her guests remind everyone it's never too late to start over. Women Made New is women helping women!