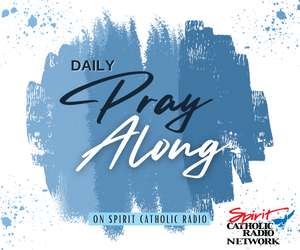 Hear a new segment on Spirit Catholic Radio called the "Daily Pray Along" which features staff members praying an Our Father together for a specific profession, need, or affliction.
Our hope is that you take a moment from whatever you may be doing when you hear this segment, and pray along with us! These will be heard multiple times throughout the day. It's a great time to include those around you in the prayer as well, and to be mindful of those in that profession or circumstance throughout the remainder of your day.
Here's an example of one of our upcoming "Daily Pray Along" segments for Active Military.
Have a request for a profession or affliction to be included in an upcoming segment? Email [email protected].