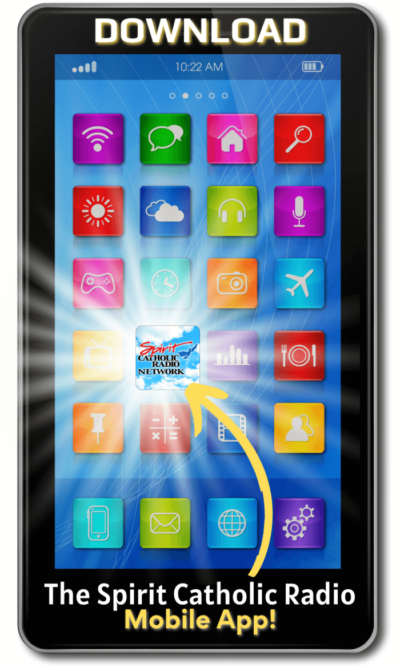 No matter where you are located, you can tune in to Spirit Catholic Radio via our free mobile app! Take us on your car trip, commute, gym workout, bible study or prayer group gathering.
Click the Google Play or App Store buttons below to directly access your corresponding Spirit Catholic Radio download option.
And if you already have our app, we hope you notice a few updates were recently made to enhance your listening experience. Don't see an item included below that you'd like to see on our app? Send us a note HERE.Does your app not look like the screenshots below? Visit your app store and search for "Spirit Catholic Radio". You should be given the option to update your app!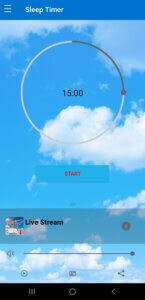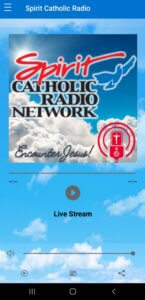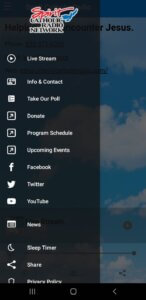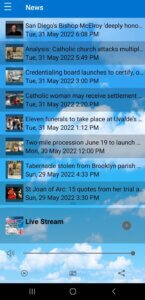 Sleep Timer: If you like to fall asleep to soothing sounds or prayers, our Holy Rosary for Priests can be heard at 10 p.m. CT during the week and the Holy Rosary for Bishops and Seminarians can be heard at 10 p.m. on the weekends. Set the sleep timer for a desired length and the app will automatically turn off once that time is reached. If you have an earlier or later bedtime, visit our interactive program schedule to know what you'll hear as you fall asleep.
Program Schedule: Access our interactive program line-up by clicking the direct link in the menu!
Upcoming Events: See what community events are happening across our listening area by clicking the direct link in the menu!
Donate: We are a 100% listener-funded radio station and we are here because of your support! Visit the direct link in our app's menu to provide your financial support.
Up-to-date Catholic News: You'll find a news feed provided by the Catholic News Agency on our app. Simply click the "News" link in the menu.
Take Our Poll! We'll change this poll frequently – share your feedback with us, no matter the topic, by clicking the link in our menu.
Visit our social media pages: And once there, make sure to share our posts! We provide "soulful" social media content that is meant to help all of us Encounter Jesus!
---