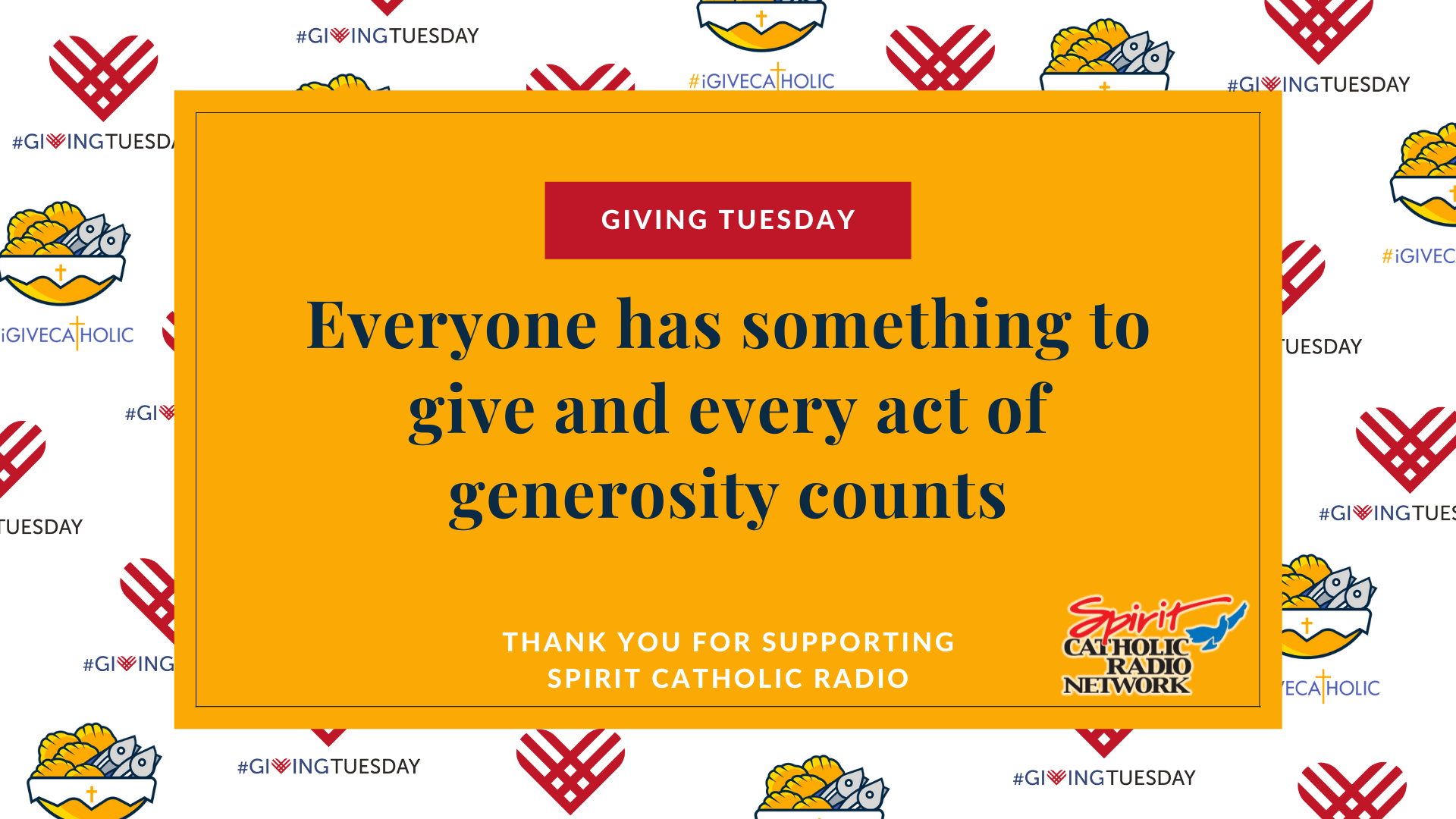 "I'm a recent convert to the Church. I started listening to Spirit with the Rosary in the morning, and then to Called to Communion. Without Spirit, I would not have had the tools needed to enter the Church last Easter! Now I am looking to go back to school for theology. This faith you guys promote and share is the Truth! God bless Spirit Catholic Radio!"
-Spirit Catholic Radio listener
Can you support us on #GivingTuesday and help light the way for people like the listener quoted above?
Visit our Share Omaha profile to donate there or our #IGiveCatholic profile for the Diocese of Grand Island. Or, you can donate directly to our station via the red "DONATE NOW" button below. God bless!
---
Why support Spirit Catholic Radio on Giving Tuesday?
On Giving Tuesday, we're asking you—our listeners—to help Light the Way for Others. The God who loves us very much wants all people to have a personal encounter with his son, Jesus.  For some, however, the path to Him has yet to be illuminated. At Spirit Catholic Radio, our mission is to light the way. To journey together with people. To show them, through our programming, that there is a God who loves them and that there is a way to a better life–a life with Christ. Today, on Giving Tuesday, we are asking our listeners to please help us continue to light the way for others. The birth of Jesus reminds us that true and lasting satisfaction comes from taking pleasure in what we can give, and not what we possess.
We're a non-profit, radio apostolate. We rely on listener support to continue broadcasting. In 2024, we'll celebrate 25 years of Spirit Catholic Radio. This isn't because of us, but because of the Father, Son, Holy Spirit and YOU—your prayers and financial support. In addition to Spirit Catholic Radio, we also like to remind our listeners on Giving Tuesday, that there are a number of wonderful Catholic non-profits out there in our listening areas that need financial support, just like us. Please, keep them in mind as well.
The end-of-year is also a great time to look back on the year and make gifts in honor of special occasions such as weddings, and baptisms; and to make memorial gifts to remember loved ones lost in 2022.
Special Mass
We pray for all our listeners on a weekly basis at Spirit Catholic Radio, but each December, during our Three Days of Christmas Celebration, we hold a special Mass at the Chapel of the Word Incarnate in Omaha. At this Mass, we'll be praying especially for every person and family that makes a donation between now and December 30. It's one way we can show our deep appreciation for the support our listeners give us throughout the year—and especially as we approach the end of 2022.