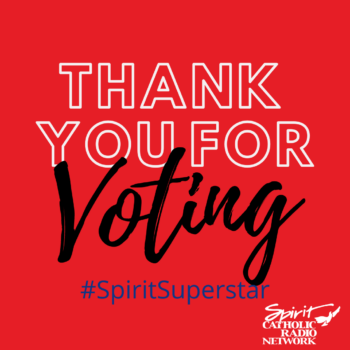 Superstar Contest 2021
Voting has closed and results have been tallied! Drumroll, please…
In the four High School categories, winners are:

Class A – Pius X (Lincoln)
Class B – V.J. & Angela Skutt Catholic High School (Omaha)
Class C – St. Albert Catholic High School (Council Bluffs, IA)
Class D – Lourdes Central Catholic High School (Nebraska City)
In the five Elementary School categories, winners are:

100 or fewer – St. Joan of Arc School (Omaha)
101-200 – St. Bernard School (Omaha)
201-300 – St. Wenceslaus School (Wahoo)
301-500 – Holy Cross School (Omaha)
501+ – St. Vincent de Paul School (Omaha)
Congrats to all of our well-deserved winners and ALL Catholic schools across the Spirit Catholic Radio listening area! You all made a solid effort in getting the word out to vote for your school, and we think you are all superstars!