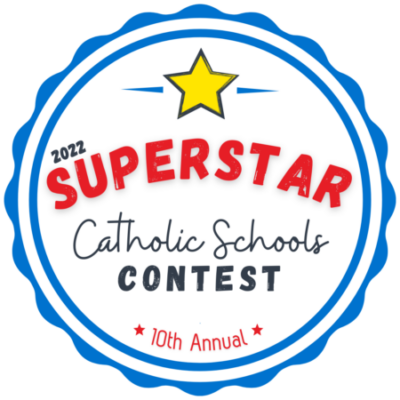 For 10 YEARS, Spirit Catholic Radio has been shining a spotlight on Catholic high schools and elementary schools in our listening area, giving them the opportunity to shine for all the communities to see! Our voting competition begins January 31 and lasts through February 11th. On February 14, we will announce our 10 winners of the Superstar Catholic Schools Contest for 2022. Visit this page for the voting link.
Thank you to Lacey Construction for sponsoring this year's leaderboard. (The leaderboard allows you to monitor real-time voting standings!)

---
If you are a school or parish looking for promotional Superstar graphics, you can find them below!
Note: you'll need to right click and save the image onto your computer
Download – Superstar Flyer PDF
---
Below are the winners of the 2021 Superstar Catholic School Contest. Can they pull it off again this year?!
Click  HERE to view pictures of the students being awarded their prizes.
In the four High School categories, winners were:

Class A – Pius X (Lincoln)
Class B – V.J. & Angela Skutt Catholic High School (Omaha)
Class C – St. Albert Catholic High School (Council Bluffs, IA)
Class D – Lourdes Central Catholic High School (Nebraska City)
In the five Elementary School categories, winners were:

100 or fewer – St. Joan of Arc School (Omaha)
101-200 – St. Bernard School (Omaha)
201-300 – St. Wenceslaus School (Wahoo)
301-500 – Holy Cross School (Omaha)
501+ – St. Vincent de Paul School (Omaha)
---