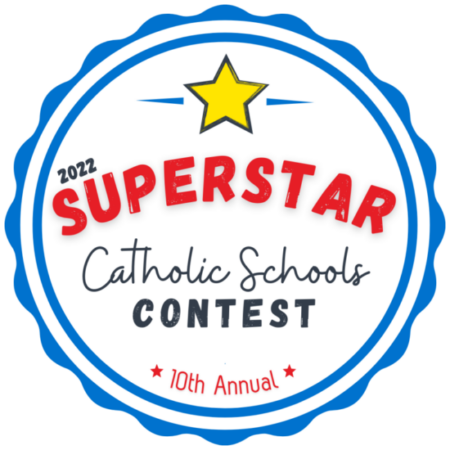 *** 2022 SUPERSTAR CATHOLIC SCHOOL WINNERS  ***
---
In the four High School categories, winners were:
Class A: Pius X in Lincoln
Class B: Skutt in Omaha
Class C: Bishop Neumann High School in Wahoo
Class D: Lourdes Central High in Nebraska City
---
In the six Elementary School categories, winners were:
Less than 60 students: Madonna School in Omaha
61-125: St. Joan of Arc in Omaha
126-200: St. Bernard in Omaha
201-300: St. Wenceslaus in Wahoo
301-500: St. James/Seton in Omaha
501+: North American Martyrs in Lincoln
Three lucky voters have been selected for a prize as well, simply by casting their vote! If you are one of the three winners, you will be contacted this week to claim your prize.
CONGRATULATIONS to these students and staff!
---
So many schools gave a tight race up until the end! We'd like to recognize them below (and say – there's always next year)!
HIGH SCHOOL
Class A
2nd Place – Creighton Prep
3rd Place – Marian
Class B
2nd Place – Mercy
3rd Place – Mount Michael Benedictine
Class C
2nd Place – Hastings St. Cecilia
3rd Place – St. Albert
Class D
2nd Place – Humphrey St. Francis
3rd Place – St. Mary in O'Neill
ELEMENTARY
Less than 60 students
2nd Place – Villa Marie Special Needs School
3rd Place – St. Vincent de Paul in Seward
61-125 students
2nd Place – St. John Nepomucene in Weston
3rd Place – Jesuit Academy in Omaha
126-200 students
2nd Place – St. Philip Neri in Omaha
3rd Place – Sacred Heart in Omaha
201-300 students
2nd Place – St. Michael in Hastings
3rd Place – St. Cecilia in Omaha
301-500 students
2nd Place – Sacred Heart in Norfolk
3rd Place – St. Robert Bellarmine in Omaha
501+ students
2nd Place – St. Vincent de Paul in Omaha
3rd Place – Mary our Queen in Omaha
---