Voting is LIVE now through Feb. 8. Click here to complete the voting form or on the button below.
Questions? Email us at events@kvss.com.
---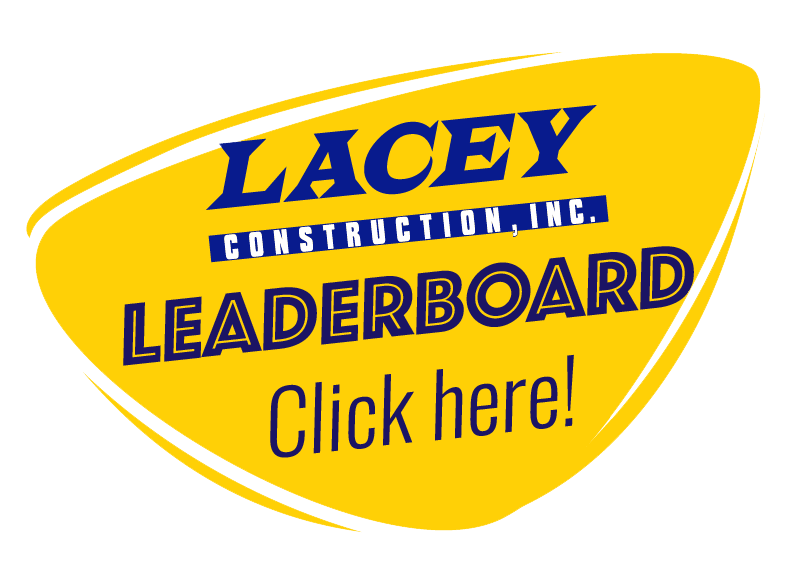 ---
Voting Rules & Notes
You may vote for one school in each category.
You will only vote ONE time for the entire contest.
Attempts to vote multiple times from the same email address or "dummy" email addresses will result in the disqualification of ALL your attempts at voting.
There is no minimum age to vote, but voters do need to have their own email address and if young, we recommend getting a parent's permission to vote.
The information we gather at the bottom of the page is to validate voting and will not be accessed by anyone other than Spirit Catholic Radio. We never, ever share information!
Everyone who votes is registered to win four prize packages: 1. Weekend in Omaha package including hotel stay and meals + Spirit swag bag; 2. $30 to Raising Cane's + Spirit swag bag; 3. $30 to mysticmonkcoffee.com + Spirit swag bag; 4. Beautiful custom-made Rosary + Spirit swag bag.
IMPORTANT: Elementary schools are listed in categories based on their enrollment size. This information was verified through the States of Nebraska and Iowa. High schools are listed in categories by their class ranking.
---
Click here to download a PDF flyer to share | Click here for an editable PDF
Tips > How to get more votes
Right click on the flyer below to save as a JPEG image and share.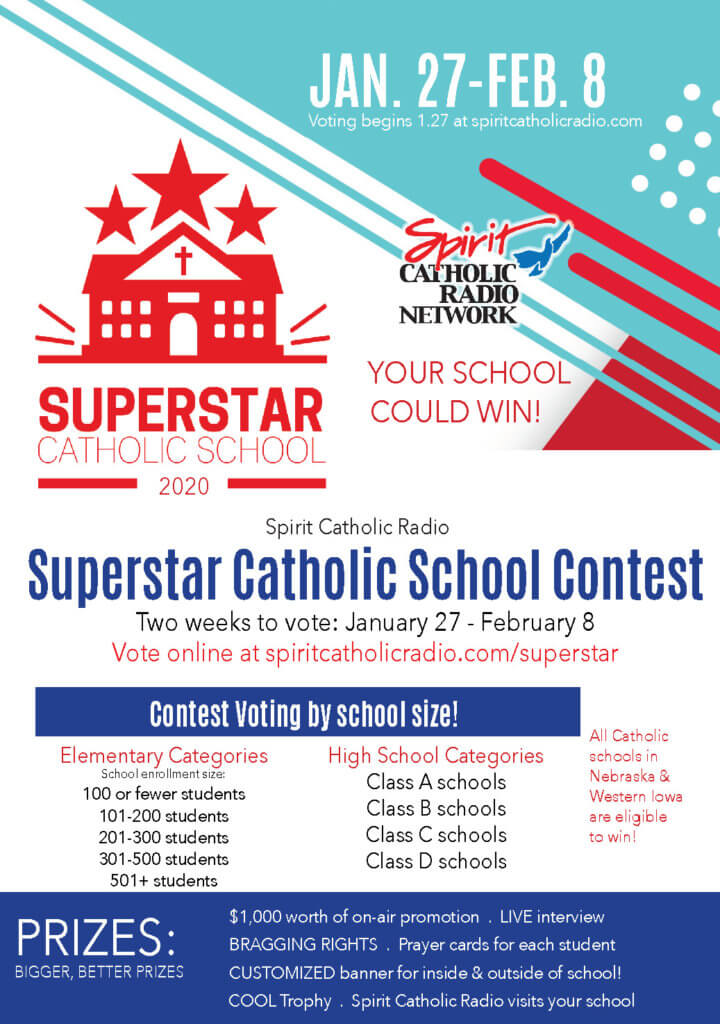 ---
LAST YEAR'S WINNERS
2019 Superstar Catholic School Contest Winners
Class A High School
WINNER: Creighton Prep in Omaha
Runner-up: Pius X in Lincoln
Class B High School
WINNER: Daniel J. Gross Catholic High School in Bellevue
Runner-up: V.J. & Angela Skutt Catholic High School – Omaha
Class C High School
WINNER: Bishop Neumann Catholic High School in Wahoo
Runner-up: St. Albert Catholic High School in Council Bluffs, IA
Class D High School
WINNER: Lourdes Central Catholic High School in Nebraska City
Runners-up: St. Mary in O'Neill and Humphrey St. Francis High School
Catholic Elementary School – 100 or fewer students enrollment
WINNER: St. Joan of Arc Elementary in Omaha
Runner-up: Madonna School of Omaha
Catholic Elementary School – 101-200 students enrollment
WINNER: St. Bernard Catholic Elementary in Omaha
Runner-up: Sacred Heart School in Omaha
Catholic Elementary School – 201-300 students enrollment
WINNER: Holy Name Catholic Elementary in Omaha
Runner-up: St. Bernadette School in Bellevue
Catholic Elementary School – 301-500 students enrollment
WINNER: St. James Seton School in Omaha
Runners-up: Holy Cross in Omaha and Norfolk Catholic Elementary (Sacred Heart) in Norfolk
Catholic Elementary School – 501 or more students enrollment
WINNER: St. Wenceslaus Catholic Elementary in Omaha
Runner-up: St. Vincent de Paul Catholic Elementary in Omaha