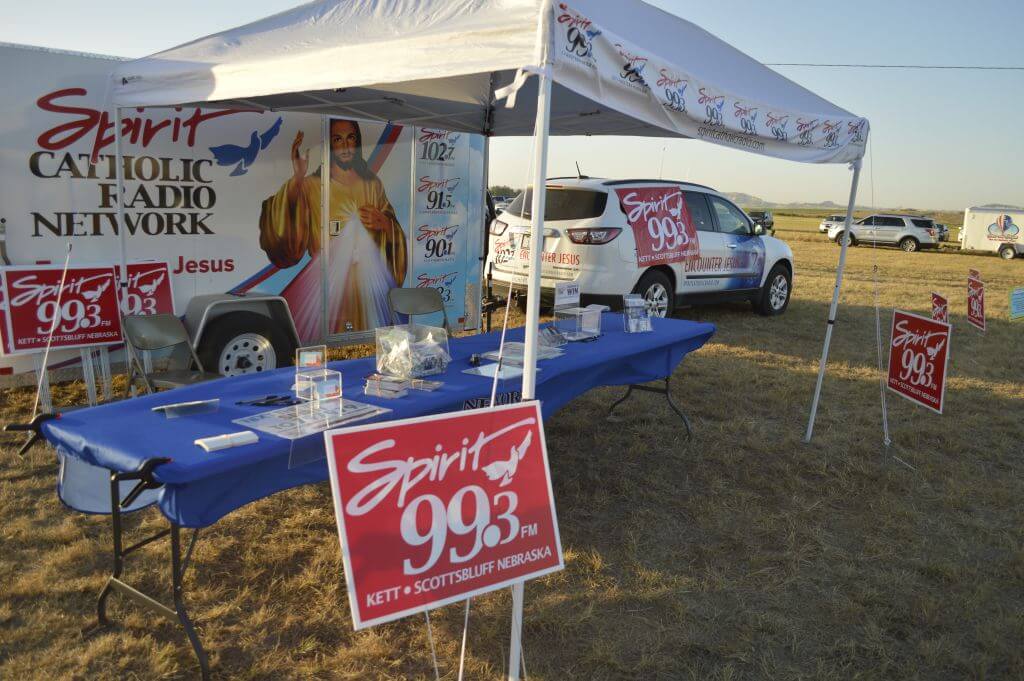 Spirit Catholic Radio held its kickoff of the new Spirit 99.3-FM at the Old West Balloon Fest Showdown in Scottsbluff and Gering, Neb. by giving away free Catholic books, Rosaries and cookies.
Spirit Catholic Radio staff and volunteers set up tents, trailers, and tables with the Spirit 99.3-FM logo at Balloon Glows held Wednesday evening, Aug. 12 and Sat., Aug.15 and at the balloon launches Friday and Saturday mornings Aug. 14 and 15.  Visitors were entered into a drawing and were offered 99.3-FM yard signs, window stickers and program guides.
Bruce McGregor and Jen Brown of Spirit Catholic Radio broadcasted a special 90-minute weekend edition of Spirit Mornings LIVE on Sat., Aug.15 from 9 to 10:30 a.m. from St. Agnes Catholic Church in Scottsbluff with guests from the area including Bishop Joseph Hanefeldt, St. Agnes pastor Rev. Vince Parsons, Christ the King Gering pastor Rev. Michael McDonald, head teacher at St. Agnes Julie Brown, Jack Revelle and Bob Wolf with the Knights of Columbus, Kristen Schiff and Jody Windhorst from the Women's Group and Spirit Catholic Radio board representative Lee Trautman of Gering.  At the end of the broadcast, members of the LIVE listening audience released 99 red balloons with the Spirit 99.3-FM logo into the air.
The 99.3-FM signal was launched in February and a power upgrade took place in June.  People from the Scottsbluff area had raised the funds needed in a campaign held December 2019 through January 2020.  Previously, they had a 100-watt low-powered FM signal operating under the name Valley Catholic Radio (VCR) and was an affiliate station of Spirit Catholic Radio.  The VCR board voted to close the low powered station and raise money to help Spirit Catholic Radio purchase the full powered 99.3-FM station which is operated by Spirit Catholic Radio.  It is the seventh station owned by the lay apostolate.  Spirit Catholic Radio also has eight affiliate stations across Nebraska and one in Wisconsin.