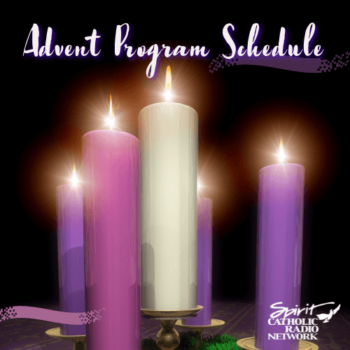 Each year, we team up with EWTN Global Catholic Radio to bring our listeners special Advent and Christmas Programming.
Find program names and times below.
Note: The Joyful Mysteries of the Rosary will be broadcast on the Sundays of Advent (beginning November 27), and
every day through the Christmas octave concluding on January 1st, 2023.
---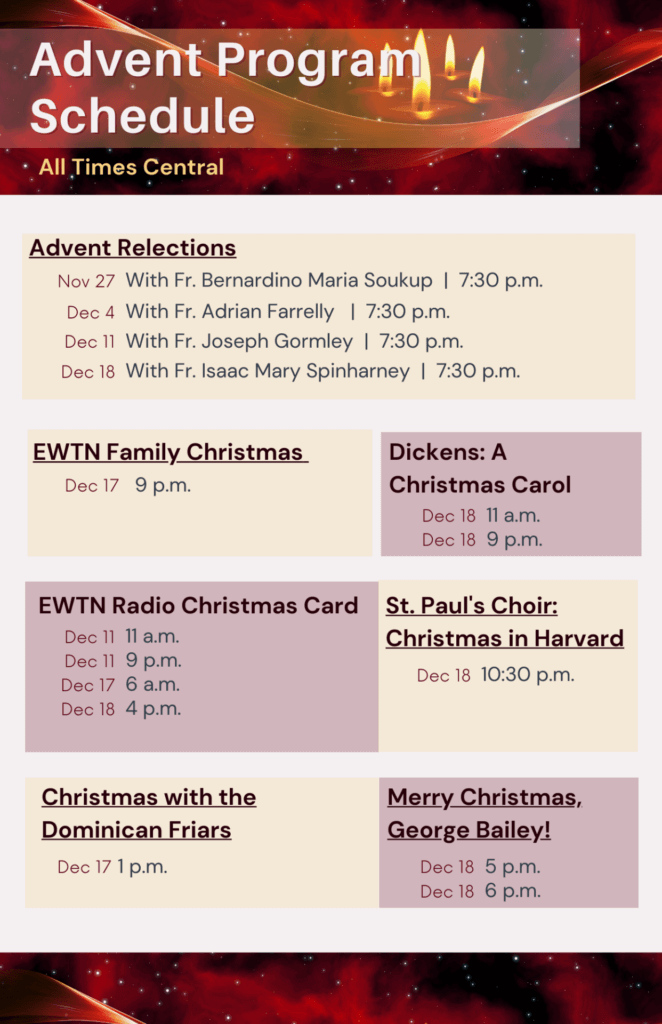 ---
PROGRAM DETAILS
EWTN RADIO CHRISTMAS CARD
Music of the season along with our special greetings to our listeners around the world.
Christmas in Harvard: The Boys of St. Paul's Choir School
A Christmas Special that will draw hearts closer to the Nativity of Christ. The Cambridge, MA-based St. Paul's Choir School, the only Catholic boys' choir school in the U.S., make their international recording debut.
MERRY CHRISTMAS, GEORGE BAILEY!
The famous Frank Capra movie is brought to life for EWTN Radio from Anathan Theatre, on the campus of Franciscan University of Steubenville. 
Blessed Christmas with Fr. Cedric Pisegna
In words and music, Fr. Cedric reminds us that Jesus is the reason for the season!  Jesus is the gift of inestimable value God has given us.
EWTN Family Christmas Special
Fr. Joseph Mary Wolfe and the EWTN Chapel Choir gift EWTN listeners with a special Christmas Concert from the retreat center chapel at the Shrine of the Most Blessed Sacrament in Hanceville, AL.
DICKENS: A CHRISTMAS CAROL
This production of Charles Dickens' immortal classic "A Christmas Carol" was adapted by Dennis D. Skirvin for five readers to present dramatically.
CHRIST IS BORN TO SAVE: CHRISTMAS WITH THE DOMINICAN FRIARS
A spotlight on the CD "Christ is Born to Save", featuring the music of the Schola Cantorum of the Dominican Friars in Washington DC.
ADVENT REFLECTIONS
Celebrate each week of this joyous season by listening to the personal reflections of these insightful priests speaking from St Catherine's Dominican Church in Newry, Northern Ireland.