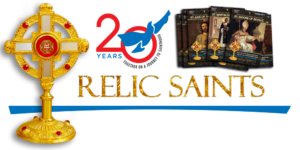 As a part of our 20th Anniversary Celebration theme, "Together on a Journey to Sainthood," we're bringing saints to YOU every month through "Relic Saints."
"Relic Saints" provides a month-long opportunity to venerate a real, first-class relic of a different saint each month in our Omaha and Lincoln studios.
You'll also receive a FREE prayer card specific to the Relic Saint you're visiting!

January Relic Saints Schedule
From now through the end of the month, you can come to these studio locations to see the Relic Saints of the month:
Omaha | Map
St. Elizabeth Ann Seton
Visit between 9 a.m. and 4 p.m., Monday through Friday
Lincoln | Map
St. Paul of the Cross
Visit on Mondays and Wednesdays from 9 a.m. to 4 p.m.
---
---
About January's Saints
St. Elizabeth Ann Seton
Mother Seton is one of the keystones of the American Catholic Church. She founded the first American religious community for women, the Sisters of Charity. She opened the first American parish school and established the first American Catholic orphanage. All this she did in the span of 46 years while raising her five children. Elizabeth Ann Bayley Seton is a true daughter of the American Revolution, born August 28, 1774, just two years before the Declaration of Independence. By birth and marriage, she was linked to the first families of New York and enjoyed the fruits of high society. Reared a staunch Episcopalian, she learned the value of prayer, Scripture and a nightly examination of conscience. Her father, Dr. Richard Bayley, did not have much use for churches but was a great humanitarian, teaching his daughter to love and serve others. The early deaths of her mother in 1777 and her baby sister in 1778 gave Elizabeth a feel for eternity and the temporariness of the pilgrim life on earth. Far from being brooding and sullen, she faced each new "holocaust," as she put it, with hopeful cheerfulness. At 19, Elizabeth was the belle of New York and married a handsome, wealthy businessman, William Magee Seton. They had five children before his business failed and he died of tuberculosis. At 30, Elizabeth was widowed, penniless, with five small children to support. While in Italy with her dying husband, Elizabeth witnessed Catholicity in action through family friends. Three basic points led her to become a Catholic: belief in the Real Presence, devotion to the Blessed Mother and conviction that the Catholic Church led back to the apostles and to Christ. Many of her family and friends rejected her when she became a Catholic in March 1805. To support her children, she opened a school in Baltimore. From the beginning, her group followed the lines of a religious community, which was officially founded in 1809. The thousand or more letters of Mother Seton reveal the development of her spiritual life from ordinary goodness to heroic sanctity. She suffered great trials of sickness, misunderstanding, the death of loved ones (her husband and two young daughters) and the heartache of a wayward son. She died January 4, 1821, and became the first American-born citizen to be beatified (1963) and then canonized (1975). She is buried in Emmitsburg, Maryland. Courtesy of Franciscan Media.
St. Paul of the Cross
Born in northern Italy in 1694, Paul Daneo lived at a time when many regarded Jesus as a great moral teacher but no more. After a brief time as a soldier, he turned to solitary prayer, developing a devotion to Christ's passion. Paul saw in the Lord's passion a demonstration of God's love for all people. In turn that devotion nurtured his compassion and supported a preaching ministry that touched the hearts of many listeners. He was known as one of the most popular preachers of his day, both for his words and for his generous acts of mercy. In 1720, Paul founded the Congregation of the Passion, whose members combined devotion to Christ's passion with preaching to the poor, and rigorous penances. Known as the Passionists, they add a fourth vow to the traditional three of poverty, chastity, and obedience, to spread the memory of Christ's passion among the faithful. Paul was elected superior general of the Congregation in 1747, spending the remainder of his life in Rome. Paul of the Cross died in 1775, and was canonized in 1867. Over 2,000 of his letters and several of his short writings have survived. Courtesy of Franciscan Media.
St. Albert the Great
Albert the Great was a 13th-century German Dominican who decisively influenced the Church's stance toward Aristotelian philosophy brought to Europe by the spread of Islam. Students of philosophy know him as the master of Thomas Aquinas. Albert's attempt to understand Aristotle's writings established the climate in which Thomas Aquinas developed his synthesis of Greek wisdom and Christian theology. But Albert deserves recognition on his own merits as a curious, honest, and diligent scholar. He was the eldest son of a powerful and wealthy German lord of military rank. He was educated in the liberal arts. Despite fierce family opposition, he entered the Dominican novitiate. His boundless interests prompted him to write a compendium of all knowledge: natural science, logic, rhetoric, mathematics, astronomy, ethics, economics, politics, and metaphysics. His explanation of learning took 20 years to complete. "Our intention," he said, "is to make all the aforesaid parts of knowledge intelligible to the Latins." He achieved his goal while serving as an educator at Paris and Cologne, as Dominican provincial, and even as bishop of Regensburg for a short time. He defended the mendicant orders and preached the Crusade in Germany and Bohemia. Albert, a Doctor of the Church, is the patron of scientists and philosophers. Bio courtesy Franciscan Media
St. Rose of Lima
Feast Day: August 24
St. Rose of Lima is the patron of Peru, South America, and the Philippines. Her name was Isabel de Flores. She was born in Lima, Peru on April 20, 1586. Her father was a Puerto Rican, who had come to Peru in 1548 with the Spanish conquistadors. She received the name Rose when a housemaid, gazing upon her when she was still an infant, remarked: "She's as lovely as a rose." Her mother decided that Rose would be her daughter's name, and later she was given that name at the time of confirmation. As a young girl growing up, Rose was given to austerities: fasting and mortification. Because her parents denied her permission to enter a convent, and because she preferred not to marry, she endured much misunderstanding from her parents and friends. She continued, however, to remain at home, but she lived a secluded life. To do her share in supporting the family, she did needlework and sold the flowers she cultivated. When she was twenty years of age, she joined the Third Order of St. Dominic and converted a little hut in the backyard into a hermitage, where she often went to pray. She also transformed a room in her parents' house into a sort of infirmary, where she cared for destitute children and elderly people. She died on August 24, 1617, at the age of thirty-one, and she was canonized by Pope Clement X in 1671. St. Rose of Lima is the first saint from the Americas. The Mass prayer on her feast day recalls her austerity of life and the fervor of her love of God.
St. Luke the Evangelist (Died in 84 A.D.)
Bishop, Physician and writer of the Gospel of Luke and Acts of the Apostles
Country: Antioch, Syria, Rome, Greece
Feast Day: October 18
Patron Saint: Physicians, artists, Spirit Catholic Radio
Referred to by St. Paul as "Luke, the beloved physician," (Colossians 4:14) this Gospel writer also documented the Church's very beginnings when he wrote the Acts of the Apostles. Luke was a Greek and a Gentile, and some scholars suggest that Luke may have been born a slave as it was common to educate slaves in the practice of medicine. The Gospel of Luke shows specific sensitivity towards the gentiles, the Virgin Mary and for poor sinners. It is only in his writings that we find the story of the Good Samaritan, the Magnificat and the Prodigal Son.
St. Isadore of Seville (560-636 A.D.)
Archbishop, Father of the Church, Ancient Scholar
Country: Spain
Feast Day: April 4
Patron Saint: Internet, computer technicians and Spirit Catholic Radio
St. Isadore was archbishop of Seville, a scholar and one of the last of the ancient Christian philosophers or "Fathers of the Church." He helped convert the Arian Visigoth kings to Catholicism and is famous in the scholarly world for being the first Christian writer to compile a "summa of universal knowledge" or entomological encyclopedia entitled "Etymologia" or "Origines" which contained numerous books from classical antiquity that would otherwise have been lost.
St. Paul
Saint Paul is one of the most important and influential of all the saints. Many of his writings are contained in the Canon of the Bible and have influenced the growth and development of the Church since the first century. St. Paul was originally known as Saul, and he was a Roman citizen and a Pharisee. He even presided over the persecutions of the early Christians and was present at the martyrdom of St. Stephen. However, Saul experienced a powerful vision that caused him to convert to Christianity while on the road to Damascus. He was duly baptized and took the name Paul. Paul traveled the world, first to Arabia then back to Damascus. He also visited Jerusalem to see St. Peter, the first pope and pay homage to him. During these travels, he preached ceaselessly, often drawing criticism and ire from those who rebuffed his message. Jews, in particular, hated his preaching as they saw him convert people to Christianity from Judaism. Paul is among the most famous, intelligent and influential of the apostles. There are some who argue that he was the leader of the apostles, but this is not supported by the evidence. Instead, he likely preached at the request of St. Peter, who was pope. St. Paul is the patron saint of missionaries, evangelists, writers, journalists, authors, public workers, rope and saddle makers, and tent makers. His feast day is on June 29 when he is honored with Saint Peter, although he is also honored on other days throughout the year, January 25, for his conversion, February 16, for his shipwreck, and Nov. 18 for the dedication of his Basilica.  -Biography courtesy of Catholic.org
St. Thomas Aquinas
By universal consent, Thomas Aquinas is the preeminent spokesman of the Catholic tradition of reason and of divine revelation. He is one of the great teachers of the medieval Catholic Church, honored with the titles Doctor of the Church and Angelic Doctor. At five he was given to the Benedictine monastery at Monte Cassino in his parents' hopes that he would choose that way of life and eventually became abbot. In 1239, he was sent to Naples to complete his studies. It was here that he was first attracted to Aristotle's philosophy. By 1243, Thomas abandoned his family's plans for him and joined the Dominicans, much to his mother's dismay. On her order, Thomas was captured by his brother and kept at home for over a year. Once free, he went to Paris and then to Cologne, where he finished his studies with Albert the Great. He held two professorships at Paris, lived at the court of Pope Urban IV, directed the Dominican schools at Rome and Viterbo, combated adversaries of the mendicants, as well as the Averroists, and argued with some Franciscans about Aristotelianism. His greatest contribution to the Catholic Church is his writings. The unity, harmony, and continuity of faith and reason, of revealed and natural human knowledge, pervades his writings. One might expect Thomas, as a man of the gospel, to be an ardent defender of revealed truth. But he was broad enough, deep enough, to see the whole natural order as coming from God the Creator, and to see reason as a divine gift to be highly cherished. The Summa Theologiae, his last and, unfortunately, uncompleted work, deals with the whole of Catholic theology. He stopped work on it after celebrating Mass on December 6, 1273. When asked why he stopped writing, he replied, "I cannot go on…. All that I have written seems to me like so much straw compared to what I have seen and what has been revealed to me." He died March 7, 1274. -Information courtesy Franciscan Media
St. Catherine of Siena
The value Catherine makes central in her short life and which sounds clearly and consistently through her experience is complete surrender to Christ. What is most impressive about her is that she learns to view her surrender to her Lord as a goal to be reached through time. She was the 23rd child of Jacopo and Lapa Benincasa and grew up as an intelligent, cheerful, and intensely religious person. Catherine disappointed her mother by cutting off her hair as a protest against being overly encouraged to improve her appearance in order to attract a husband. Her father ordered her to be left in peace, and she was given a room of her own for prayer and meditation. She entered the Dominican Third Order at 18 and spent the next three years in seclusion, prayer, and austerity. Gradually, a group of followers gathered around her—men and women, priests and religious. An active public apostolate grew out of her contemplative life. Her letters, mostly for spiritual instruction and encouragement of her followers, began to take more and more note of public affairs. Opposition and slander resulted from her mixing fearlessly with the world and speaking with the candor and authority of one completely committed to Christ. She was cleared of all charges at the Dominican General Chapter of 1374. Her public influence reached great heights because of her evident holiness, her membership in the Dominican Third Order, and the deep impression she made on the pope. She worked tirelessly for the crusade against the Turks and for peace between Florence and the pope. In 1378, the Great Schism began, splitting the allegiance of Christendom between two, then three, popes and putting even saints on opposing sides. Catherine spent the last two years of her life in Rome, in prayer and pleading on behalf of the cause of Pope Urban VI and the unity of the Church. She offered herself as a victim for the Church in its agony. She died surrounded by her "children" and was canonized in 1461. Catherine ranks high among the mystics and spiritual writers of the Church. In 1939, she and Francis of Assisi were declared co-patrons of Italy. Pope Paul VI named her and Teresa of Avila doctors of the Church in 1970. Her spiritual testament is found in The Dialogue. Information courtesy Franciscan Media.
St. Dominic
If he hadn't taken a trip with his bishop, Dominic would probably have remained within the structure of contemplative life; after the trip, he spent the rest of his life being a contemplative in active apostolic work. Born in old Castile, Spain, Dominic was trained for the priesthood by a priest-uncle, studied the arts and theology, and became a canon of the cathedral at Osma, where there was an attempt to revive the apostolic common life described in Acts of the Apostles. On a journey through France with his bishop, Dominic came face to face with the then virulent Albigensian heresy at Languedoc. The Albigensians–or Cathari, "the pure ones"–held to two principles—one good, one evil—in the world. All matter is evil—hence they denied the Incarnation and the sacraments. On the same principle, they abstained from procreation and took a minimum of food and drink. The inner circle led what some people regarded as a heroic life of purity and asceticism not shared by ordinary followers. Dominic sensed the need for the Church to combat this heresy, and was commissioned to be part of the preaching crusade against it. He saw immediately why the preaching crusade was not succeeding: the ordinary people admired and followed the ascetical heroes of the Albigenses. Understandably, they were not impressed by the Catholic preachers who traveled with horse and retinues, stayed at the best inns and had servants. Dominic therefore, with three Cistercians, began itinerant preaching according to the gospel ideal. He continued this work for 10 years, being successful with the ordinary people but not with the leaders. His fellow preachers gradually became a community, and in 1215 Dominic founded a religious house at Toulouse, the beginning of the Order of Preachers or Dominicans. Dominic's ideal, and that of his Order, was to organically link a life with God, study, and prayer in all forms, with a ministry of salvation to people by the word of God. His ideal: contemplata tradere: "to pass on the fruits of contemplation" or "to speak only of God or with God." Information courtesy Franciscan Media.