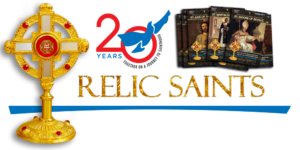 As a part of our 20th Anniversary Celebration theme, "Together on a Journey to Sainthood," we're bringing saints to YOU every month through "Relic Saints."
"Relic Saints" provides a month-long opportunity to venerate a real, first-class relic of a different saint each month in our Omaha, Lincoln and Grand Island studios.
You'll also receive a FREE prayer card specific to the Relic Saint you're visiting!
September 2018 Relic Saints Schedule
Through the end of the month, you can come to these studio locations to see the Relic Saints of the month:
Omaha | Map
Relic of the True Cross
Visit between 9 a.m. and 4 p.m., Monday through Friday
Lincoln | Map
St. Isidore of Seville + BONUS: St. Paul!
Visit on Mondays and Wednesdays from 9 a.m. to 4 p.m.
Grand Island | Map
Seven Blessed Martyrs of Thailand
Visit on Mondays and Wednesdays from 9 a.m. to 4 p.m.
---
---
About September's Saints
Seven Blessed Martyrs of Thailand (Village of Songkhon)
Country: Thailand
Martyrs: Blessed Philip Siphong, catechist (age 33) Blessed Sister Agnes Phila (age 31), Blessed Sister Lucia Khambang (age 23), Blessed Agatha Phutta (age 59), Blessed Cecilia (age 16), Blessed Bibiana Khamphai (age 15), Blessed Maria Phorn (age 14).
In 1940, the world was in turmoil with the spreading Nazi regime and global war. When the police entered this little village of Songkong, the first step was to banish and deport the village priest and threaten the lives of every Christian in the community if they did not renounce their faith in Christ Jesus. Among these Christians were two sisters of the of the Congregation of the Lovers of the Holy Cross, Sister Agnes and Sister Lucia, and a catechist, Philip Siphong. Refusing to renounce their faith, Philip was the first to be shot after a pursuit into the woods. The others, including the two sisters, were executed in the village cemetery the day after Christmas, the feast day of the first Christian martyr, St. Stephen.
Relic of the True Cross (Cross Found 326 A.D.)
Found in Jerusalem by St. Helena, mother of Constantine
Country: Jerusalem; Rome
Feast Day: September 14 (Exaltation of the Holy Cross)
The true Cross was discovered by St. Helena, mother of Constantine the Great who was the first to legalize Christianity and put an end to the persecutions of early Christians in Rome. Helena traveled to Jerusalem in search of holy places of Christ's life. During an excavation, workers found three crosses. According to legend, Helena directed a hemorrhaging woman to touch all three crosses, and the "true cross" was identified by the healing that took place after she touched it. This cross has become an object of veneration and celebration throughout the Church.
St. Paul the Apostle (5 – 64 A.D.)
St. Paul, first named "Saul," was born a Roman citizen and a Pharisee. Filled with zeal for Jewish law, Saul led the persecutions of the first Christians and watched the martyrdom of St. Stephen. During a trip to Damascus, he received a powerful vision from Christ saying "Saul, Saul, why do you persecute Me." He was then struck blind until his visit with Ananias.  He was baptized, taking the name "Paul." He became one of the most influential and persecuted first Christians, often beat and imprisoned. He is the author of several powerful New Testament letters. Eventually, Paul received the crown of martyrdom.
St. Isadore of Seville (560-636 A.D.)
St. Isadore was archbishop of Seville, a scholar and one of the last of the ancient Christian philosophers or "Fathers of the Church." He helped convert the Arian Visigoth kings to Catholicism and is famous in the scholarly world for being the first Christian writer to compile a "summa of universal knowledge" or entomological encyclopedia entitled "Etymologia" or "Origines" which contained numerous books from classical antiquity that would otherwise have been lost.