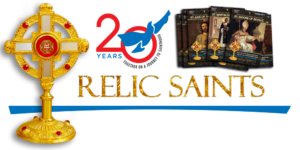 As a part of our 20th Anniversary Celebration theme, "Together on a Journey to Sainthood," we're bringing saints to YOU every month through "Relic Saints."
"Relic Saints" provides a month-long opportunity to venerate a real, first-class relic of a different saint each month in our Omaha and Lincoln studios.
You'll also receive a FREE prayer card specific to the Relic Saint you're visiting!
November 2018 Relic Saints Schedule
Through the end of the month, you can come to these studio locations to see the Relic Saints of the month:
Omaha | Map
St. Martin de Porres, St. Luke, St. Isadore
Visit between 9 a.m. and 4 p.m., Monday through Friday
Lincoln | Map
St. Agnes, St. Maria Goretti and St. Paul
Visit on Mondays and Wednesdays from 9 a.m. to 4 p.m.
---
---
About November's Saints
St. Agnes
St. Agnes (291-304 A.D) Beautiful and wealthy, Agnes (whose name means "lamb") was often sought after for marriage. However, she was so in love with Jesus that she promised always to belong to Him alone. Several legendary tales tell of men trying to force her into marriage by torture and even murder, but God always sent a miracle to protect or save her.  Eventually, at the age of 12 or 13, she was martyred for refusing to deny or renounce her God. St. Agnes is among the 7 women commemorated by name in the Canon of the Mass.
St. Maria Goretti
St. Maria Goretti (1890-1902 A.D) Maria was born to a poor Italian family which suffered even more loss after her father's death when Maria was only 9 years old. Her mother sought to keep the family alive when accepting a job to help on another family's farm. The young man of this new family, Alessandro, was very attracted to Maria and often harassed her. Maria, a prayerful young girl who vowed to keep her purity and honor God, fought against him and lived in fear. One day, Alessandro found Maria alone and tried to force himself upon her. Maria fought back in the name of God, and Alessandro stabbed her several times. Maria was brought to the hospital and managed only to speak words of forgiveness towards her attacker before she died. Alessandro was sent to prison for the murder where he had a dream of Maria visiting him with a bouquet of flowers – one for each stab wound. Alessandro was moved to sorrow and conversion, and he spent the remainder of his life in reparation.
St. Luke the Evangelist (Died in 84 A.D.)
Bishop, Physician and writer of the Gospel of Luke and Acts of the Apostles
Country: Antioch, Syria, Rome, Greece
Feast Day: October 18
Patron Saint: Physicians, artists, Spirit Catholic Radio
Referred to by St. Paul as "Luke, the beloved physician," (Colossians 4:14) this Gospel writer also documented the Church's very beginnings when he wrote the Acts of the Apostles. Luke was a Greek and a Gentile, and some scholars suggest that Luke may have been born a slave as it was common to educate slaves in the practice of medicine. The Gospel of Luke shows specific sensitivity towards the gentiles, the Virgin Mary and for poor sinners. It is only in his writings that we find the story of the Good Samaritan, the Magnificat and the Prodigal Son.
St. Isadore of Seville (560-636 A.D.)
Archbishop, Father of the Church, Ancient Scholar
Country: Spain
Feast Day: April 4
Patron Saint: Internet, computer technicians and Spirit Catholic Radio
St. Isadore was archbishop of Seville, a scholar and one of the last of the ancient Christian philosophers or "Fathers of the Church." He helped convert the Arian Visigoth kings to Catholicism and is famous in the scholarly world for being the first Christian writer to compile a "summa of universal knowledge" or entomological encyclopedia entitled "Etymologia" or "Origines" which contained numerous books from classical antiquity that would otherwise have been lost.
St. Martin de Porres (1579-1639)
Dominican Lay Brother, founder of an orphanage
Country: Peru
Feast Day: November 3
Patron Saint: Mixed race, barbers, public health workers, innkeepers
Martin was born out of wedlock to a freed slave woman and a Spanish gentleman. His father abandoned the family and Martin was ridiculed throughout his life for his poverty, mixed race, illegitimacy and for being a descendent of a slave.  As a young boy, Martin learned to cut hair and practice medicine. Martin was known for spending long hours in prayer, and after much difficulty surrounding his social status, he was permitted to enter the Dominican Convent of the Rosary where he later took vows as a member of the Third Order of St. Dominic. Martin spend his life caring for the sick, lost, abandoned and poor, making no distinction of race or class. He started an orphanage for abandoned children and placed charity above all other virtues. He was known for his many spiritual gifts, including aerial flights, bilocation, instant cures, spiritual knowledge and close relationships with animals.
St. Paul
Saint Paul is one of the most important and influential of all the saints. Many of his writings are contained in the Canon of the Bible and have influenced the growth and development of the Church since the first century. St. Paul was originally known as Saul, and he was a Roman citizen and a Pharisee. He even presided over the persecutions of the early Christians and was present at the martyrdom of St. Stephen. However, Saul experienced a powerful vision that caused him to convert to Christianity while on the road to Damascus. He was duly baptized and took the name Paul. Paul traveled the world, first to Arabia then back to Damascus. He also visited Jerusalem to see St. Peter, the first pope and pay homage to him. During these travels, he preached ceaselessly, often drawing criticism and ire from those who rebuffed his message. Jews, in particular, hated his preaching as they saw him convert people to Christianity from Judaism. Paul is among the most famous, intelligent and influential of the apostles. There are some who argue that he was the leader of the apostles, but this is not supported by the evidence. Instead, he likely preached at the request of St. Peter, who was pope. St. Paul is the patron saint of missionaries, evangelists, writers, journalists, authors, public workers, rope and saddle makers, and tent makers. His feast day is on June 29 when he is honored with Saint Peter, although he is also honored on other days throughout the year, January 25, for his conversion, February 16, for his shipwreck, and Nov. 18 for the dedication of his Basilica.  -Biography courtesy of Catholic.org