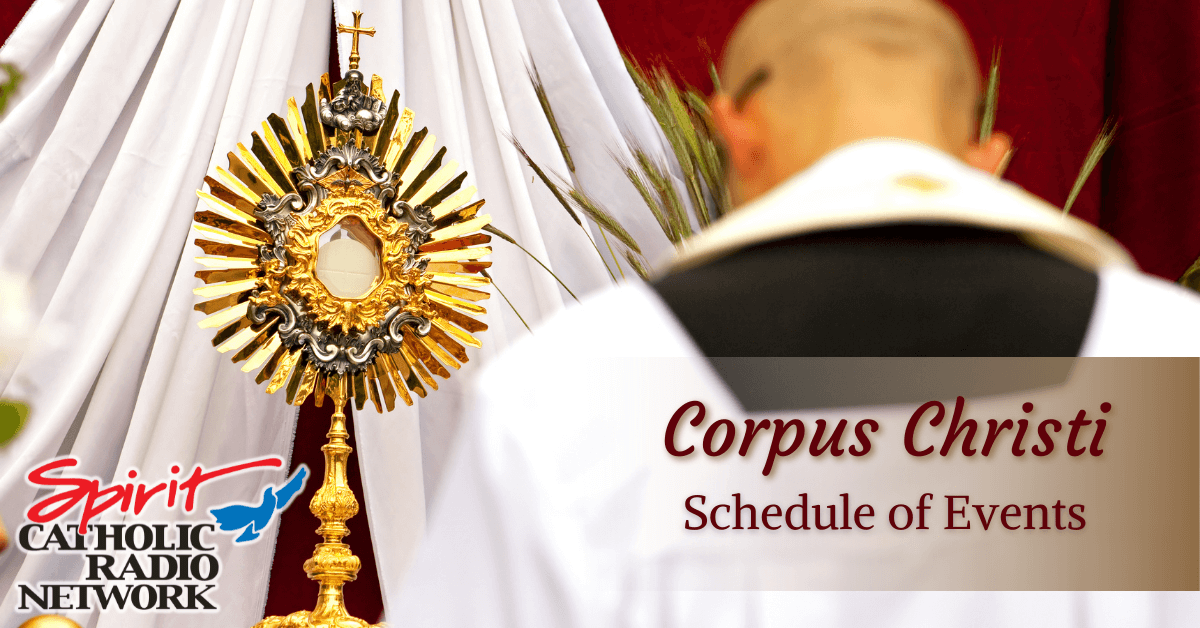 Corpus Christi Processions
"The source and summit of the Christian life"
Many parishes will be celebrating the feast day of Corpus Christi – the Most Holy Body and Blood of Christ – June 11th. We've gathered some information below of Eucharistic processions happening in our listening area. Don't see yours here but want it included? Email the details to [email protected].
OMAHA |  Our Lady of Lourdes and St. Peter DETAILS HERE
The procession starts at 2:30 pm at Our Lady of Lourdes (2110 S.32nd St.) and ends 1.4 miles later at St. Peter Catholic Church (27th and Leavenworth). Transportation will be available between both churches before and after the procession. In the event of rain, there will be a Holy Hour at St. Peter from 3-4 pm. Those who received the Sacraments of First Holy Communion or Confirmation this year or last year are invited to wear their special attire and to bring a small basket of flower petals to sprinkle on the street ahead of the Blessed Sacrament. Spirit Catholic Radio will broadcast the music and prayers that accompany the procession! Bring a radio or download the free Spirit Catholic Radio app!
OMAHA | St. Cecilia's Cathedral DETAILS HERE
We will celebrate Corpus Christi with a Eucharistic Procession around the Cathedral campus/neighborhood after the Saturday, June 10, 5:30 pm Mass. There will be several stops for prayer. It is a great opportunity to publicly show your faith in the True Presence of Christ in the Eucharist and a wonderful witness to your children of that faith in your life. Cathedral groups/organizations are invited to walk together with their banners. A food/social time will be held after the procession. Plan to have your family join us.
RALSTON | St. Gerald DETAILS HERE
June 10th @ 6:30pm, Lakeview Chapel. Please join us! We will begin the procession at the Lakeview Chapel (7859 Lakeview Street), around the block and back to the Chapel. The procession will begin at 6:30pm and be followed by Benediction.
COUNCIL BLUFFS |  DETAILS HERE
Our annual Corpus Christi Procession begins after the Noon Mass at Corpus Christi-Queen of the Apostles Church. Along the route, the faithful will stop to pray at a series of homes decorated for the occasion. Ollie the Trolley will be available for those unable to walk the full route; hop on and off as needed, or ride the whole time. Refreshments will be provided after the completion of the procession in the Holy Family social hall. Join us!!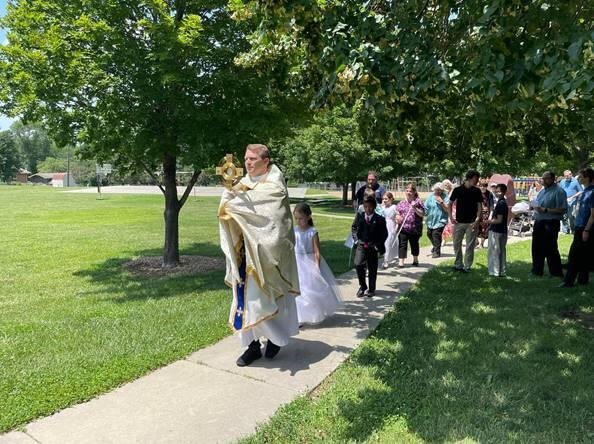 ---