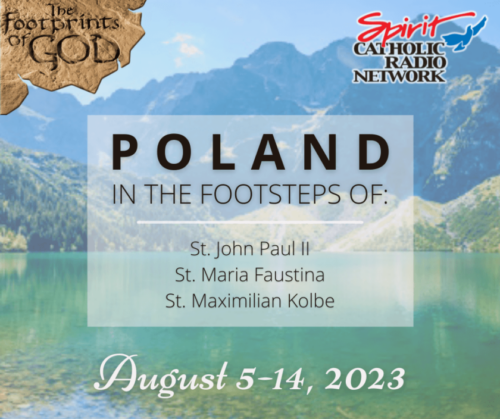 Steve and Janet Ray invite you on a pilgrimage to Poland in the footsteps of St. John Paul II, St. Maria Faustina, St. Maximilian Kolbe, and others!
Join Spirit Catholic Radio on this pilgrimage August 5-14, 2023.
Tickets are on sale now!
---
View the trip brochure HERE for itinerary details and pricing information, and watch Steve Ray's personal invitation video below including a message regarding the safety of around Poland here.
Concerning the state of affairs in Poland – On Feb 16, 2023, Jacek Kowalski, theologian and guide for Steve Ray wrote:
Dear Steve Ray!
All is well here 😊. It is sad to hear about pilgrims who are afraid of coming to Poland… I am expecting to see you and many pilgrims in August. I am writing to encourage them. I'm not a geopolitical expert so I won't get into that, however, the U.S. State Department has no concerns with its citizens traveling to Poland (other than standard COVID updates issued for all travel). All I can say is that I feel safe as a citizen here.
Russian aggression on Ukraine does not affect our country on a daily basis when it comes to ordinary life. Of course there are economical problems, inflation etc. But what I mean is that you will not be able to see signs of the war on the streets of Poland, because we are not in a state of war, we're not on the front line, and you don't have crowds of refugees camping on old town squares. Yes, you will see our support, like Ukrainian flags or information in Ukrainian language, people involved in humanitarian aid. We have welcomed millions of people but there are no refugee camps here. All Ukrainians have found shelter, they live here, work here etc. We had a big Ukrainian minority before the war, and it's just bigger now. We are simply living our lives with more neighbours speaking a different language.
Although the tourist season hasn't started yet, you will find individual guests and groups from many countries. Just few days ago Warsaw won the title of European Best Destination 2023, beating off stiff competition from 21 other cities also nominated!https://www.forbes.com/sites/ceciliarodriguez/2023/02/10/the-20-best-places-in-europe-to-visit-in-2023-according-to-european-best-destinations/?sh=152bb2e02443
And of course I have to mention the CNN list where Poland as a country is on the first place to visit:https://edition.cnn.com/travel/article/where-to-travel-best-destinations-2023/index.html
In the above mentioned article you will find a beautiful argument: "The reason you should visit Poland in 2023 is to show solidarity with a country which has, in turn, shown solidarity to the people of Ukraine." So don't let fear have the last word! I'm sure God has something special for you, when you are here.
God bless,
Jacek Kowalski
---