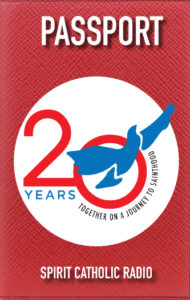 Spirit Catholic Radio's 20th Anniversary Passport was created in celebration of 20 years of broadcasting. Its goal is to provide an experience of fun and faith for those participating. The theme for our 20th Anniversary Celebration is "Together on a Journey to Sainthood." We sincerely hope you'll enjoy the journey the passport takes you on and will grow closer to Christ because of it!
Already have a passport? Click below to register it!
CLICK HERE TO REGISTER YOUR PASSPORT
---
Where to Get a Passport
Passports are available (FREE!) at the following locations:
Spirit Catholic Radio studios in Omaha   |  8 a.m. to 5 p.m., M-F
13326 A Street, Omaha, NE 68144
Spirit Catholic Radio studios in Grand Island  |  9 a.m. to 4 p.m., Mon. & Wed.
828 N. Diers Ave., Grand Island, NE 68803
Spirit Catholic Radio studios in Lincoln | 9 a.m. to 4 p.m., M-F
630 North Cotner Blvd., Ste. 101, Lincoln, NE 68505
Cosgraves in Omaha
8222 H St, Omaha, NE 68127
Gloria Deo in Omaha
13065 W Center Rd, Omaha, NE 68144
Gloria Deo in Lincoln
1265 S Cotner Blvd #29, Lincoln, NE 68510
St. James Catholic Church in Kearney
3801 Avenue A, Kearney, NE 68847
St. Patrick Church in North Platte
415 N Chestnut | North Platte, NE 69101
St. Agnes Church in Scottsbluff
2314 3rd Ave, Scottsbluff, NE 69361
Our Lady of Guadalupe in Scottsbluff
3760, 1102 12th Ave, Scottsbluff, NE 69361
Sacred Heart Church Office in Norfolk
200 S 5th St, Norfolk, NE 68701
---
PASSPORT REGISTRATION
Click here to register your passport
A few quick notes:
1. We will never, ever share your email address, or any of the other information you provide, with ANYONE else.
2. We won't SPAM you!
3. The information you provide is for internal purposes only and makes you eligible to win monthly and quarterly prizes (chosen randomly from those registering) and for grand prizes when the passport program is complete (December 2019).
5. If you have questions, email us or call 855.571.0200.
---
Passport Stops
Below you'll find information about some of the stops listed in the 20th Anniversary Passport.
Passport Prizes
2018
August: $50 Fandango gift card + 8 Extreme Wristbands to Papio Fun Park
September: Six tickets to Vala's Pumpkin Patch
October: Win a stay at the beautiful Rogers House Bed and Breakfast in Lincoln, Neb.
November: Christmas in Omaha package! Four tix to the Omaha Symphony Christmas Celebration on Saturday, Dec. 8 at 2 p.m. and dinner at Hiro 88 in the Old Market.
December: Warm up with $60 to MysticMonkCoffee.com and four tickets to see South Pacific in concert at the Holland Performing Arts Center in Omaha on Sunday, Jan. 27 at 2 p.m.
2019
January: Win a one-night stay at the beautiful Holiday Inn Country Club Plaza in Kansas City and a beautiful, custom-made red Rosary! Just in time for Valentine's Day!
February: $50 Fandango gift card + Six tickets to see Pirates Ahoy! at the Holland Performing Arts Center in Omaha.
More prizes TBA!