Due to COVID-19, this event has been postponed until a later date (TBA). If you purchased tickets, you'll be receiving a refund on the card you used to purchase tickets.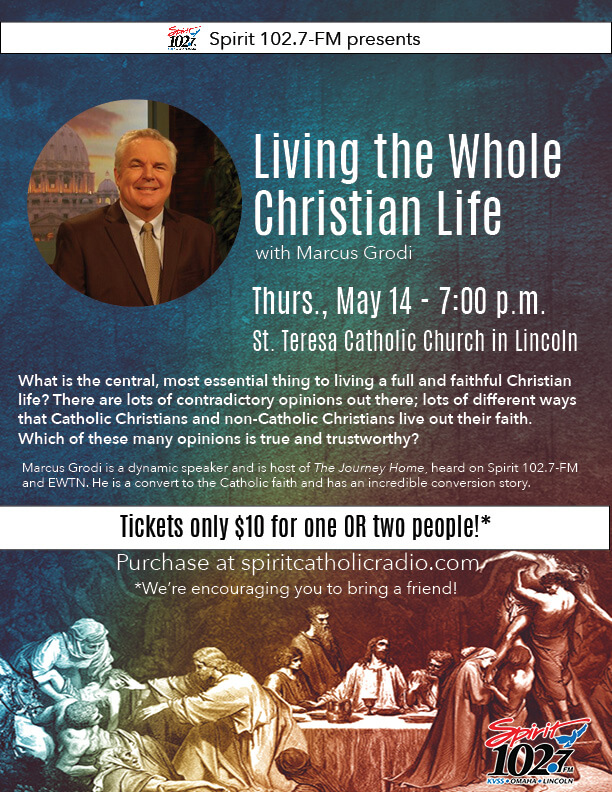 Hear Marcus Grodi, host of The Journey Home, heard on Spirit Catholic Radio and EWTN as he presents:
Living the Whole Christian Life
OMAHA | Wed., May 13
7:30 p.m. at St. Robert Bellarmine in Omaha

LINCOLN | Thurs., May 14
7 p.m. at St. Teresa Catholic Church in Lincoln
What is the central, must essential thing to living a full and faithful Christian life? There are lots of contradictory opinions out there; lots of different ways that Catholic Christians and non-Catholic Christians live out their faith. Which of these many opinions is true and trustworthy? 
Tickets only $10 – Either $10 individually or $10 to bring a friend or family member for FREE! 
We are encouraging you to bring someone–friend, co-worker, family member. Perhaps they're Catholic–perhaps they're not! 
St. Robert Bellarmine Church in Omaha
11802 Pacific St, Omaha, NE 68154
About Marcus Grodi
Marcus received his BS degree from Case Institute of Technology in Polymer Engineering and worked for six years as an engineer. During this time, he was involved in a variety of Protestant youth and music ministries. He then received his Master of Divinity Degree from Gordon-Conwell Theological Seminary and was ordained to the Protestant pastoral ministry. During his more than fifteen years of youth, young adult, and pastoral ministry, his main emphasis was church and lay spiritual renewal. Marcus, his wife Marilyn, and their two older sons, JonMarc and Peter, were received into the Catholic Church on December 20, 1992. Their third son, Richard, entered through baptism. You can hear Marcus Grodi on Spirit Catholic Radio as host of The Journey Home Program.