2021 Fish Fry Advertising Package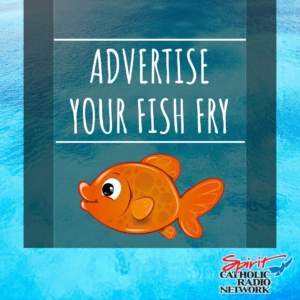 Spirit Catholic Radio would love to help your organization promote your fabulous, Friday fish fry during the 2021 Lenten Season!
We offer two Advertising Packages for Non-Profit Organizations. Please fill out this form to submit your information: 2021 Fish Fry Advertising Package Please note, this package cannot be transferred or divided between two or more organizations. Sponsorship packages are also available for for-profit businesses or organizations – please send your request to Mary Jorgensen at [email protected].
– Recorded announcements will be 15 seconds in length
– Start date: Sunday, February 14, 2021
– End date: Friday, March 26, 2021
– Announcements will be scheduled in the best times available Sunday through Friday from 5 a.m. to 8 p.m. (ends before 6 p.m. on Fridays)
You can also add your event to our "Fish Fry Finder"  at no additional charge.
Please mail payment to:
Spirit Catholic Radio Network
ATTN: Mary Jorgensen
13326 A St.
Omaha, NE 68144
Please note in Memo: "Fish Fry"
Phone:  402-571-0200 x 14