48 Hours of Christmas!  |  Dec. 24-25

The journey of Christmas is experienced every day, all year long at Spirit Catholic Radio. Read how:
Throughout Advent, each of us travel on our own, personal journey to Christ. When we reach our destination–Christmas Day–it is our hope to be closer to the Lord than the day we began our journey. At Spirit Catholic Radio, this process doesn't just happen at Christmas. It happens 365 days a year, 24 hours a day. Every day, people tune in and hear God's word. This encounter with the Lord through the airwaves is the start of their own journey to Christ.
These year-round Christmas journeys include conversions of faith, healed marriages and families, forgiveness, calls to vocations, hope in the midst of pain and crisis, people welcomed back to the Catholic Church and so much more. Your support makes this possible. Your support brings Christ to the least, the last and the lost.
This Advent and Christmas season, please prayerfully consider making an end-of-year gift to Spirit Catholic Radio online at spiritcatholicradio.com or by calling us at 855-571-0200. Respond by Dec. 26 and your family will be remembered at a special Dec. 27 Mass in our Omaha chapel.
Make a journey to Christ possible for others by keeping God's word on the air.
---
While other stations stop playing Christmas music on Dec. 25, Spirit Catholic Radio is just getting started! Make our Three Days of Christmas Music part of your family's Christmas traditions.

Join us for three incredible days of fun and music on the air.
Dec. 26, Dec. 27 and Dec. 28 from 6:45 a.m. to 5 p.m.

You'll hear the most unique mix of Christmas music in the heartland…guaranteed. Additionally, we'll have songs submitted by local choirs. So, listen for your parish or school's performances to be played!

Listen on-air, online, or on our app!

102.7 FM – Omaha/Lincoln/Council Bluffs
88.3 FM – Norfolk/Hartington/Yankton
91.5 FM – Grand Island/Hastings/Kearney
90.1 FM – North Platte
89.3-FM – Chadron
99.3-FM – Columbus
103.9-FM – Alliance
100.1-FM – Beatrice
106.5-FM – Holdrege
104.3-FM – Imperial
96.9-FM – McCook
95.1-FM – Scottsbluff
107.5-FM – Sidney
102.5-FM – York

Listen live: spiritcatholicradio.com
Get our FREE app: spiritcatholicradio.com/app

Pssst: Be sure to tell a friend!
---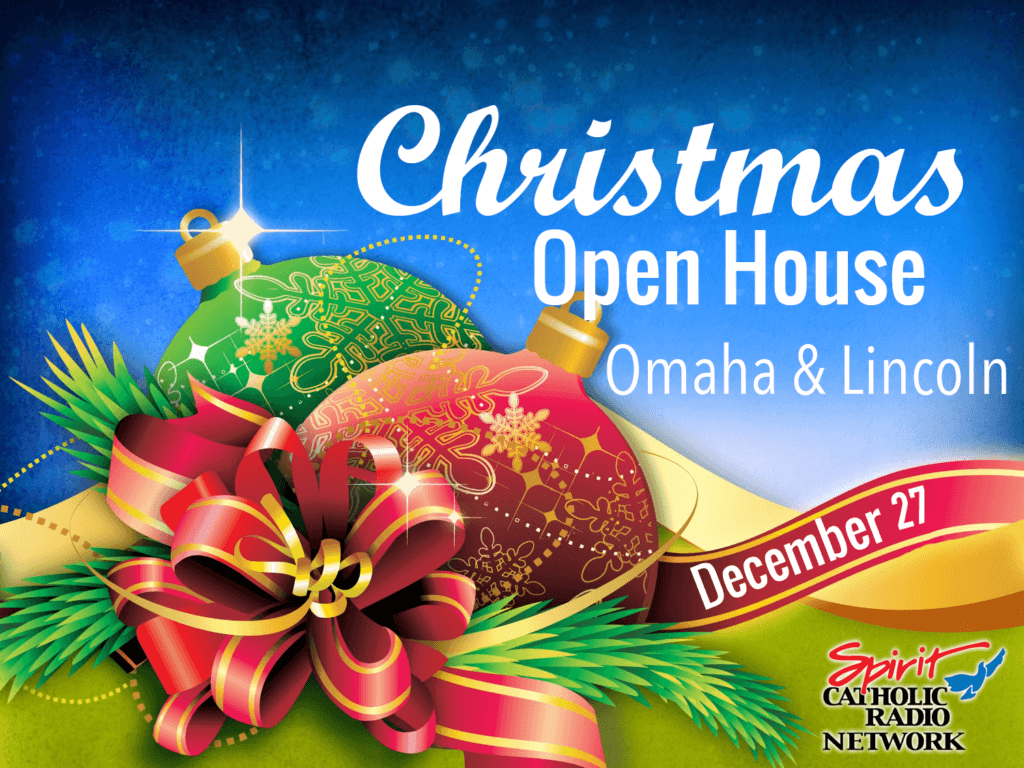 Christmas Open House in Omaha and Lincoln
Join Spirit Catholic Radio for our annual Christmas Open House on Fri., Dec. 27 from 9 a.m. to 4 p.m. at our Omaha and Lincoln studios. We'll have delicious treats, warm drinks and giveaways. We'll also have the December Relic Saints available for viewing/venerating.
This is a family-friendly event. Children are very much welcome!
At 11:30 a.m. in the Omaha Chapel of the Word Incarnate in our Omaha studios, we'll have a Mass open to the public. Please join us for this special day!
Omaha address: 13326 A Street, Omaha, NE 68144
Lincoln address: 630 North Cotner Blvd., Ste. 101, Lincoln, NE 68505