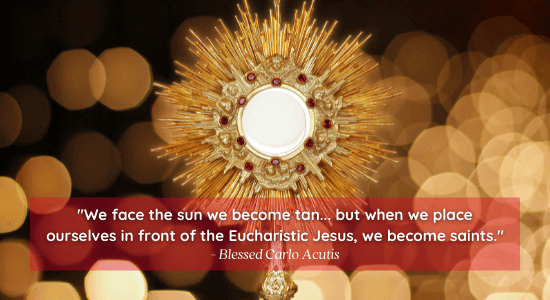 Only 30% of Catholics believe that the Eucharist is the Real Presence of Jesus.
This, combined with the strain put on Mass attendance during the COVID pandemic have led Church leaders to develop inspiration and understanding on the need to refocus  and rediscover the importance of Eucharistic worship as the Bread of Life. In 2021, the U.S. bishops announced a Eucharistic Revival initiative – three years of prayer, pilgrimage and worship beginning June of 2022 and lasting through July of 2024 with a special Eucharistic conference to be held in Indianapolis July 17-21, 2024.
---
Blessed Carlo Acutis Named the Patron of the U.S. Eucharistic Revival
Blessed Carlo Acutis will serve as the patron for the first year of the three year Eucharistic Revival. Spirit Catholic Radio is the home of three sets of the powerful exhibit Eucharistic Miracles of the World, designed by Carlo Acutis, an Italian teenager who died from leukemia at the age of 15. The Congregation for the Doctrine of the Faith, wants this exhibition to be displayed in every parish in the world! Spirit Catholic Radio is proud to offer this display to area organizations in order to promote Eucharistic Adoration and for the further evangelization of world, at no charge.
Learn more about how you can bring the Spirit Catholic Radio Eucharistic Miracles Display to your parish or event and what materials are included by clicking the "Reserve the Display" button below.
---
Other Available Exhibits: