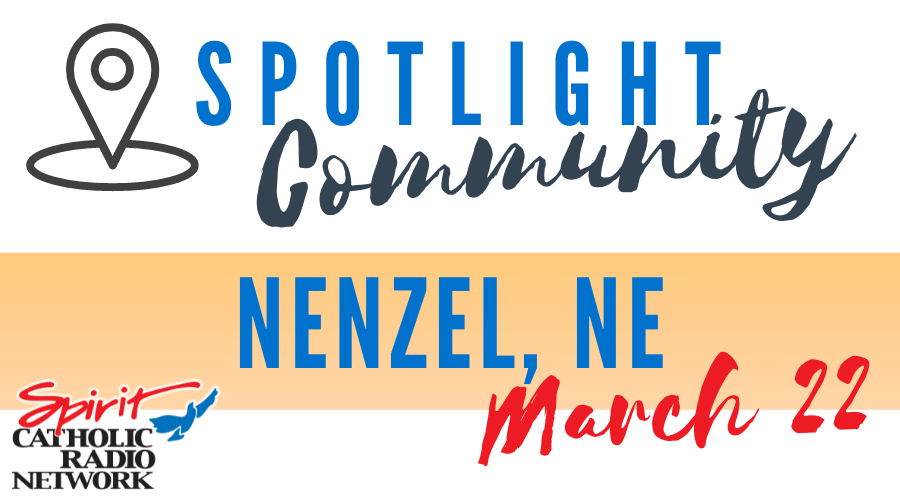 Each day on Spirit Mornings, we highlight one town in our listening area in our Community Spotlight. It's a miniature geography and history lesson for our listeners! We received such wonderful details about the small but mighty village of Nenzel that we wanted to highlight them below. Shout out to Fr. Nollette for this excellent info. Listen to Spirit Mornings weekdays from 6:45-9 a.m. to learn exciting details about your town's past and present!
---
The following are facts and bits of information about St. Mary's at Nenzel, Nebraska and about the Village of Nenzel, Nebraska itself.  All information was submitted and written by Fr. Neal Nollette
St. Mary's Catholic Church
A tornado came through Nenzel, Nebraska on Friday evening of Father's Day weekend, June 15, 1962.  St. Mary's Catholic Church was totally destroyed by the tornado.  Parts of the building were found near Kilgore, Nebraska 8 miles to the east. A very significant aspect of the reason why the Church was completely destroyed in the tornado was because in April, 1962 the Church had been moved off its foundation so that the new church building could be built on the same spot as the original Church.
During the summer of 1962, St. Mary's parishioners held Sunday Masses at the White Elephant Hall in Cody, Nebraska 7 miles west.  At the end of the summer, Sunday Masses were held at the Knights of Columbus Hall in Nenzel. Sunday Masses were held at the K of C Hall until September, 1963 when the new St. Mary's Church building was blessed by Bishop John L. Paschang.
Mary's at Nenzel has about 40 households on its parish roster. About ¼ of them are single person households.  Our Sunday Masses average 40-45 persons per Sunday.  I don't have any information regarding how many households were in the Parish in the 1940's.  That is when the Village of Nenzel had its peak population of 125.  In the 1960's when I was a child at St. Mary's, there were about 65 households.  And many of those households were like my family's—young families raising their 4-8 children.
So, of course, it is very easy to notice any visitors that attend Mass at St. Mary's in Nenzel.
We have Coffee and Rolls after every Sunday Mass except the holiday weekends of the year. We invite visitors to join us so that we can get to know them and to make sure they are not ignored.The tradition of having Coffee and Rolls after every Sunday Mass started with Fr. Ferris. The 'old church' (i.e., the one destroyed in the tornado) did not have a basement nor did we have a social hall.  Before the tornado, there was a dance hall in Nenzel.  It was on the 2nd floor of a two-story building.  (By the way, the dance hall was not destroyed in the tornado, but was damaged enough that it was torn down in the clean up afterwards.)  That is where the original fall turkey dinners for the Parish were held.  Eventually, that space was abandoned for the basement of the Nenzel Elementary School which was directly across the street from the Church and fewer steps to navigate for carrying in food.  These buildings were only used once a year for the fall dinner that the Parish put on annually.
I was too young to know this at the time, but I have since learned that this is the primary reason for starting Coffee and Rolls after Mass.  Since there was no social hall or church basement to use as a gathering area for the parishioners, the men in particular would gather at the Nenzel Bar after Mass.  It was only ½ block north of the Church.  I am not sure where the women gathered or what they did while the men had a beer at the Bar.  Apparently, Fr. Ferris didn't like this very much so he recruited some ladies of the Parish to start making rolls and serving coffee.  Fr. Ferris had to find a place to do it.  So, he talked to my great uncle, a member of the Parish, who owned the General Store in Nenzel.  He agreed to Fr. Ferris' request and organized a place in his store where coffee and rolls could be served after Sunday Mass.  In the first months of having Coffee and Rolls, there were "unofficial" bets to see how many of the men would make it to Coffee and Rolls since the General Store was another ½ block north of the Bar on the same street.  Eventually, most of the men made it to Coffee and Rolls.  And after the new St. Mary's Church was built, a Parish Social Hall was constructed as well.  So, in September, 1963 Coffee and Rolls had a new permanent home.
Mary's at Nenzel has two active service groups. They are the Council of Catholic Woman (CCW) (ladies' group) and the Knights of Columbus (men's group).  Both groups work together to put on the Parish's annual fund raiser.  Shortly after Fr. Carl Ferris arrived as pastor in 1959, he helped the ladies' group of the Parish then known as the "Altar Society" organize an elaborate Fall Bazaar and Smorgasbord.  There was plenty of homemade food for the meal, a "country store", a bake sale, a raffle, and games for the kids.  Since Fr. Ferris considered himself to be a "gourmet cook", there was always a 'friendly competition' between him and the ladies of the Parish to see who could make the best item for the bake sale.  The Fall Bazaar was always held on the 3rd Sunday of September.  The joke in the Parish was that it is the "11th Commandment to have the Bazaar on the 3rd Sunday of September".  Even when half of the ladies had other commitments that fell on that date in September, the "11th Commandment" was never broken.
The annual Fall Bazaar continued in its original format until 2020.  Partly because of the Covid 19 pandemic, partly because of St. Mary's Parish getting smaller and older, and partly because of fewer people in the neighboring towns of Cody and Kilgore, the annual Fall Bazaar transformed to the annual Raffle and meal.  The Parish now obtains two major raffle prizes and numerous other smaller raffle prizes.  We continue to serve a great meal and ask for a free will offering instead of selling meal tickets.  We are now able to raise more money for the Parish with a lot less work.  The Annual Raffle is now held in the first part of December.  There is some flexibility with the exact date based on other events and activities at the School or within the Community.
The CCW work together with the Grand Island Diocesan Council of Catholic Women (DCCW) on many service projects.  They collect "Best Choice" labels that are eventually converted to money for projects like clean drinking water in 3rd world countries.  The CCW and the K of C have events to raise money for such things as seminarian support and families in need from the Parish or the larger community (especially when a family suffers a major illness or loss of property from fire).
Nenzel was founded as a "Catholic Town". As a result, we have had a significant number of religious vocations considering the size of our Town and of our Parish. Three men from St. Mary's have become priests.  My brother, Fr. Louis Nollette was ordained a priest at St. Mary's Church in Nenzel.  Bishop John Sullivan believed that ordaining men in their home parishes was a way to foster vocations.  Since Lou was the only one in his ordination class for the Diocese of Grand Island in 1975, it was relatively easy for Bishop Sullivan to do this.  There were three in my ordination class for the Diocese in 1980 so Bishop Lawrence McNamara ordained us at the Cathedral of the Nativity of the Blessed Virgin Mary (popularly referred to as 'St. Mary's Cathedral') in Grand Island.
St. Mary's claims Fr. Carl Ferris as a "Nenzel Vocation".  He was baptized at St. Mary's since his family lived at Cody, Nebraska (which is a part of the Nenzel Parish).  When Carl was a young boy, his family moved to Valentine and thus became St. Nicholas parishioners.
There have been 13 women from the Parish (including St. Elizabeth's of Merriman, Nebraska which was a Mission of Nenzel for many years) who have become nuns.  Two of them I know were born and baptized here, but their families moved away while they were still young.  When they did enter the convent as adults, they would not have considered St. Mary's at Nenzel as their "home parish".  Still, we at St. Mary's will take credit for laying a good foundation for them to enter religious life.
Mary's patronal feast day is celebrated on August 15, the Assumption of Mary. Every year for as long as I can remember (I am 71 years old) we have always held a picnic in our Village Park on the Sunday closest to August 15.  The tradition is that we have a Mass in the late afternoon / early evening.  Then there is a "carry in" picnic at the Park.  The Knights of Columbus furnish and grill the hamburgers, hotdogs, and brats.  Some years, some of the parishioners gather at the Cemetery before the Parish Mass to pray the Rosary for the deceased members of the Parish.
One of the years when Fr. Bernard Berger was Pastor at St. Mary's (2003-2008), on the day of the Parish Picnic we had severe thunderstorms and heavy rains.  So, the Picnic was moved to the Social Hall.  One of St. Mary's parishioners had to go to his house to get some supplies that were missing from the Social Hall.  While he did that, he saw 2 motorcyclists returning from the Sturgis South Dakota Motorcycle Rally waiting out the storm under the awning of the Knights of Columbus building.  He went to them and invited them to our picnic.  By the time they finished eating, the rain had stopped and they were able to continue on to Valentine (30 miles east of Nenzel) where they were planning to spend the night.  About one month later, Fr. Berger received a lovely thank you note from the two of them thanking the parishioners for their generous hospitality.  They also sent a check for $100.00 for the Parish as a "thank you' gift.
Highlights of the History of St. Mary's at Nenzel
Fall, 1886        Jesuit Priests from St. Francis South Dakota Indian Mission say Mass once a month at the home of George Nenzel, Founder of Nenzel.
1890                Fr. Lechleitner is 1st resident Pastor at Valentine.  Nenzel is a Mission of Valentine.  Mass is said twice a month at the local schoolhouse.
1903                Fr. Muyssen and Fr. Breitkopf serve the Catholic Community at Nenzel
1907                1st Catholic Church construction at Nenzel is completed.  Brother Hartman, SJ of St. Francis South Dakota Indian Mission designed and supervised the construction of the new church.  New Church was named in honor of the Blessed Virgin Mary.
1907                Fr. Leo Blaire is appointed Pastor at St. Nicholas in Valentine, Nebraska with St. Mary's at Nenzel as one of his Missions.  Sunday Mass is celebrated twice a month.
1915                Fr. Henry Keil is appointed as the 1st Pastor of St. Mary's at Nenzel.
1917-1955       8 priests served as Pastors of St. Mary's at Nenzel.
1955                Fr. Jacob Bauer, the 1st native priest of the Diocese of Grand Island to serve as Pastor of St. Mary's at Nenzel.
1959                Fr. Carl Ferris is appointed Pastor of St. Mary's at Nenzel.  He loved to cook.  He planted trees around the Village of Nenzel and at St. Mary's Cemetery.  He introduced weekly Coffee and Rolls for the Parish.  He oversaw the construction of the current St. Mary's Church building.
April, 1962      Ground breaking for new St. Mary's Church building.
June 15, 1962  "Old" St. Mary's Church building is completely destroyed by a tornado.
Sept., 1963      "New" St. Mary's Church building is dedicated and blessed by Bishop                                                                                                                        John L. Paschang.
1967-2008       8 "native sons" of the Diocese of Grand Island serve as Pastors.
2008-2014       Fr. John Kakkuzhiyil is the 1st priest from India who is appointed as Pastor of St. Mary's at Nenzel.
2014-Present   Fr. Abraham Kaduthodiyil 2nd priest from India who is appointed as Pastor of St. Mary's at Nenzel.
Interesting Facts About St. Mary's Church at Nenzel
The architectural style of the "New" St. Mary's Church building is "modern-classical".
It is a replica of St. Mary's Church at Sioux Falls, South Dakota, which had won a national award for its design.

The outside bricks are rose-colored.
It seats 250 people.
Stations of the Cross are hand-carved from Italy.
On the wall behind the Altar is an empty Cross symbolizing the Resurrection and that Jesus is alive, living among us. Mary standing is at the foot of the Cross. These are hand-carved, plated in 22 karat gold, and imported from Oberammergau, Germany.  The 'sunburst' behind the Cross is made of glass imported from Italy.
The floor of the sanctuary was originally laid with mosaic tiles from Japan. However, because of deteriation and not being able to replace it, a new slate tile floor has replaced it.
The original Altar is made of marble. The 'table top' is a 2,000-pound single piece of Italian black marble imported from Italy.  The 'face' of the Altar has 4 large sections of white marble with carvings of the symbols for the 4 Evangelists.
The Tabernacle is made of marble with double bronze doors.

The church building cost $80,000.00. The furnishings were another $25,000.00.
The Parish received a $10,000.00 gift from Catholic Extension Society.
Mary's CCW contributed $40,000.00 from the annual Fall Bazaars and other fund raisers.
The Church Building was completely paid for 1968.
The Social Hall seats 135 people.

Village of Nenzel, Nebraska 
George Nenzel is the founder of the Village of Nenzel. He came to the United States from a little town near Fulda, Germany.  He originally settled in Lacrosse, Wisconsin.  He eventually came to Nebraska in the 1880's to be a land surveyor for the Fremont, Elkhorn, and Missouri Valley Railroad.  The rail line was being built from Omaha to the Black Hills of South Dakota to move raw materials such as lumber and gold to places where they could be processed into usable products.
The Homestead Act was still in effect during this time.  I have no information explaining why my great-great grandfather chose this particular spot to start a town.  I do know that the steam engine locomotives needed a water 're-fill' about every 10 miles or so.  My guess is that the location of the current Village of Nenzel was place where a town needed to be built and he probably said "I will start a town here if no one else is going to".  Or, maybe, he found something very intriguing about how the Sandhills were shaped in this particular spot so he said "This is the place I have been looking for!".  As I said, I have no specific information why he chose this particular parcel of earth to start a town he could name after himself.  I am just very proud that he had the courage, the desire, the know-how, and the resources to just do it!
George Nenzel is my great-great grandfather. His daughter Flora married Joseph Nollette.  Their son George married Mary Bell.  George and Mary's son Joseph Nollette married Mary Laleff.  Joseph and Mary are my parents.  This lineage makes me a 5th generation descendant of George Nenzel and his wife Julianna and a 5th generation of the Village of Nenzel. Because of this lineage, I am deeply rooted in my little Village of Nenzel.  And I am extremely proud to be a resident of a town with a current population of 20 people!
A Nollette cousin of mine who lives in Valentine has done extensive genealogical research on the Nollette Family.  But he has also researched some things about George Nenzel.  My cousin found an advertisement that my great-great grandfather placed in an old edition of the Omaha World Herald newspaper.  In general, it said "Looking for a few good Catholic families to settle at Nenzel, Nebraska".  Because George Nenzel was a devout Catholic and because a "few good Catholic families" did indeed come to Nenzel to make this their home, Nenzel has always been rooted in Catholicism.  Most of the Catholic families who homesteaded at Nenzel were German or Polish.
In a history of St. Mary's that was written by Fr. Carl Ferris at the time the "New" St. Mary's Church building was built, he says "If there is anything we be especially proud about, it is the 'spirit of Catholicity' that resides in Nenzel and the surrounding territory. Mary's Church is the heart and center of the spiritual and social life of this far-flung community in the [Nebraska] Sandhills…. The church is Nenzel".
And I would add, Nenzel is the church.  I remember as a child and as a teenager living here in Nenzel that everybody in town and the immediate surrounding area would help with projects and events at the Church.  And when there was a community event, essentially the members of the Parish would help.  It really is accurate to say that St. Mary's Church is Nenzel and that Nenzel is St. Mary's Church. For example, in most parishes when there is a funeral, there is a meal afterwards.  And in these parishes the meal is more or less restricted to family members and the closest of friends.  At St. Mary's in Nenzel, anyone and everyone who attends the funeral also attends the meal afterwards.
A Nenzel cousin of mine told me this story of my great-great-great grandmother Margaretha Zengraf Haas Nenzel (the mother of my great-great grandfather George Nenzel) after he had visited my cousins who are still living on the family farm near Fulda, Germany. Margaretha and Adam Haas had 4 sons.  When Adam died, Margaretha quickly fell in love with Johannes Nenzel.  The custom at that time was to have a year of mourning after a death.  Margaretha didn't want to wait that long to get married a second time.  However, her pastor was insistent that she follow the tradition.  She did, reluctantly.  Her wedding to Johannes was exactly 1 day after the year of mourning.  Since Margaretha was a woman of "means", she "pulled out all of the stops" and had a very extravagant wedding.  To this day, the people who live in the area of George Nenzel's family farm in Germany call any "extravagant" or "over the top" celebration of a wedding a "Nenzel Wedding".   Margaretha and Johannes Nenzel had only one child, namely George.
The schoolhouse that was used for Masses at Nenzel in the 1890's eventually was purchased and used as a lumber company. In 1959, the Nenzel Knights of Columbus purchased the building for their hall and meeting place.
At its peak, Nenzel had a hotel, a bank, a livery stable, a café, a lumberyard, and a couple of stores.  Its highest population was in the 1940's of 125 people,
Nenzel's population at the 2010 census was 20.  Our "new" Nenzel signs on the east and west sides of town with the 2020 Census numbers are still not installed.  But the exact census count as of March 20, 2023 is exactly 14 people.  And, all of the families currently living in Nenzel are Catholic.
Lou and I both live in Nenzel in our retirement as Catholic priests serving in the Diocese of Grand Island. Lou had 39 years of active ministry before retiring and I had 37 years of active ministry before retiring.  Lou lives in the Parish Rectory, which we have since St. Mary's was a Parish with a resident priest who served two Missions at one time in our history.  I live in my childhood home.  Lou and I substitute a lot in the Grand Island Diocese.  And occasionally we are asked to serve in parishes outside our own Diocese.  Abraham, the current Pastor of St. Nicholas in Valentine and St. Mary's in Nenzel, has to put his request in early for us to substitute for him—otherwise, the other priests ask us to help and then there are no weekends left to help Fr. Abraham.
The most famous business in Nenzel is Niobrara Valley Vineyards and Winery. It is a Nebraska farm winery owned by my two younger brothers Greg and Tim.  It is a family run business.  Tim's family does most of the work for all of the catering that is a part of the winery.  Lou and I help a lot with work that needs to be done in the vineyard or the winery.  We have two vineyards that we tend—the vineyard of the Lord and the vineyard of Niobrara Valley.  Starting the 1st Friday of May, 2023 and going through the last Friday of September, Niobrara Valley Vineyards and Winery serve homemade pizzas along with our wines.  The 4th Sunday of the month in June, July, August, and September we serve a prime rib supper.  Reservations are required for the prime rib suppers.  No reservations are required for pizza nights.
Since Niobrara Valley Vineyards and Winery has been very successful and has continued to grow over the years, we are building a new "Event Center".  This will enable us to have events and activities year-round.  Currently, we are limited to having events only when the weather is good.  The Event Center is nearing completion.  The goal is to have it ready by Summer, 2023—but with supply chain issues and weather issues, we are not sure if it will be ready by early summer, mid-summer, or late summer.
Niobrara Valley Vineyards and Winery is one of the stops on the 2023 Nebraska Tourism Passport Program.  A visit to Niobrara Valley Vineyards and Winery is an opportunity to experience an "Island of Grapes in an Ocean of Grass" on a working cattle ranch in the middle of the Nebraska Sandhills.  That's definitely worth a Nebraska Tourism Passport stop!