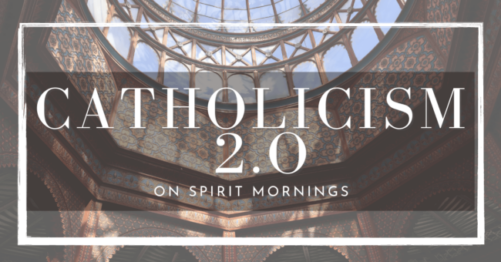 Spirit Catholic Radio's weekday morning show, Spirit Mornings, has launched a new monthly series that we pray listeners will find it's concept both educational and insightful.
Catholicism 2.0, brought to you by Spirit Mornings and the Evangelium Institute, picks up where it's brother segment, Consider the Catechism, left off. While Consider the Catechism has wrapped up after it's successful run over the past several years, previous airings can still be enjoyed on our Soundcloud page.
Dr. Keith Jiron, Executive Director and Co-founder of the Evangelium Institute, shared the inspiration behind this new Catholicism 2.0 segment.
When Consider the Catechism wrapped up, the Evangelium Institute knew we wanted to keep offering Spirit Catholic Radio listeners something they would benefit from. That's when the new concept, Catholicism 2.0, was born.
With the launch of this segment, it enables new topics to be highlighted on an even deeper scale than before. Jen Brown, co-host of Spirit Mornings, explained, "We decided to start off with discussion of Vatican II, highlighting the many documents that KVSS listeners would benefit learning about. We hope you enjoy this new ongoing series!"
Upcoming topics for Catholicism 2.0 include Dei Verbum: The Word of God, Lumen Gentium: On the Church, and Sacrosanctum Concilium: On the Liturgy.
---