Brace yourself listeners! We are getting ready for another week of celebrating Catholic radio through the fundraising drive we call Care-a-thon.  This is the 39th time we have come together and gone on-air to ask for your sacrificial support!
People often ask us what Care-a-thon week is like as an employee of Spirit Catholic Radio.  They marvel at the amount of energy needed to keep the phones pacing towards our six-month goal of raising funds for operating expenses.  It truly is an exertion of energy and resources on behalf of the staff and many volunteers.  Yes–we are typically worn-out come 6 p.m. Friday.  However, think "Christmas Day celebration" worn-out, not "worn-out because of fatigue."
For me, Care-a-thon is a celebration of all things Catholic radio.  We get to hi-light many priests and sisters whose voices you often hear each week on Spirit Catholic Radio.  We get to thank our listeners who call in–and there are typically over 2,000 of them!  Most of all, we get to strive toward something together: a goal of providing the monetary funds needed to keep this mission going.  And boy has it gone!  Now reaching 2 million people in five states and involving 15 network signals! All because of you, the listener, who has sacrificed your own time, talent and treasure to make it happen. As they say, "God loves a joyful giver," and we get privy to that joy by your calls and e-mails.
Therefore, you see, Care-a-thon time is like Christmas time for us.  We have traditions we follow (like a cup and cap for a dollar-a-day pledge) we get the liturgy (Mass each day at our Omaha studios) and we get to celebrate many gifts (monetary, prayer and other).
We cannot thank you enough. We may be tired come Friday, but our spiritual belly will be full as we celebrate another year of Catholic radio!
If you'd like to support Spirit Catholic Radio's Fall Care-a-thon, click here.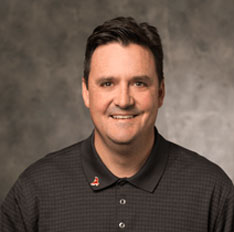 Bernie Schaefer
Vice-President of Development
Spirit Catholic Radio Network