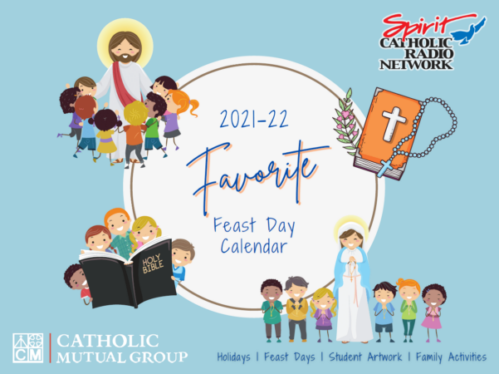 The 2021-22 school-year calendars have been distributed to Catholic elementary schools across Nebraska and western Iowa!
The first Friday of every month, we announce 10 winning numbers. If you see one of these numbers on the bottom of your Spirit Catholic Radio school calendar (pictured above), contact us!
Here are the WINNING NUMBERS:
September:  906, 2128, 3192, 3208, 4056, 6414, 6602, 11138, 14159, 17458
October: 1442, 2004, 3763, 5682, 6567, 7680, 7691, 8873, 10212, 14676
---
Want your own version for your office, cubicle, or family room wall? PDF versions for printing can be found below featuring the winning student art for that month, a fun family-related activity to consider, feast days, and Spirit Catholic Radio programming information. Enjoy!
  (click the images below to print)
OCTOBER
NOVEMBER
DECEMBER
Questions? Call: 402-571-0200