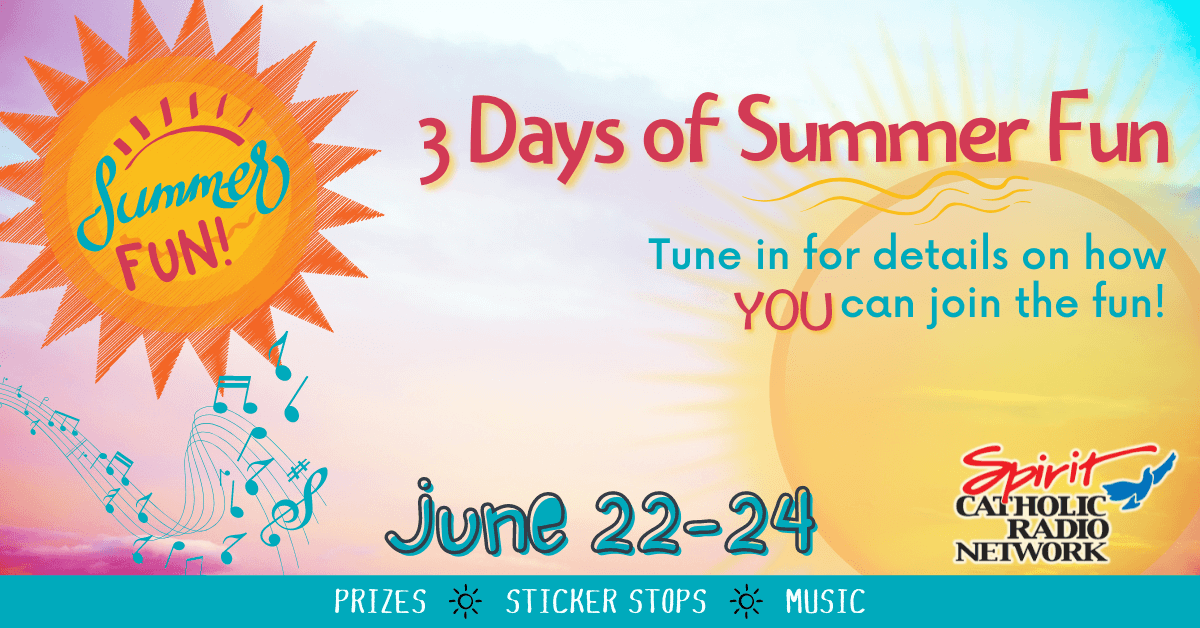 Join us for Spirit Catholic Radio's annual Three Days of Summer Fun – June 22-24! These three days are a time for us to meet you, the listener, celebrate summer, and raise funds to cover expenses necessary to keep the Network on the air.
This year (weather-depending) you'll have multiple chances to come by our tent, say hello, get a free popsicle, and a sticker for your car!
TUESDAY, JUNE 22
11 a.m. – 1 p.m.
Council Bluffs: 712 Eat and Eileen's Cookies, Madison Ave.
Omaha: St. Columbkille, 84th and Cornhusker Rd.
Grand Island: Chancery Office, 2708 Old Fair Rd.
WEDNESDAY, JUNE 23
11 a.m. – 1 p.m.
Omaha: Hobby Lobby in Millard, 13780 Millard Ave.
Norfolk: HyVee, 120 E. Norfolk Ave.
Columbus: HyVee, 3010 23rd St.
11 a.m. – 1 p.m.
Lincoln: HyVee, 5010 O St.
Omaha: St. Robert Bellarmine, 120th and Pacific
Hastings: Russ's Market, 6th and Burlington Ave.
---
Spirit Catholic Radio is a listener-funded non-profit radio station. We rely on YOU to keep spreading the Gospel message over the airwaves and across the world!
Why Support Catholic Radio
Spirit Catholic Radio reaches over 75 percent of the state of Nebraska's population with six network signals, nine affiliate signals and the entire state and nation through live online broadcasting and a free smartphone app.
In a survey of 1,100 people, 78 people reported converting to the Catholic faith after listening to Spirit Catholic Radio; 60 percent of people reported increased Mass attendance; 94 percent reported increased time in prayer; 129 people reported that they considered a vocation to the priesthood or religious life; 84 people reported Spirit Catholic Radio helping reduce suicidal thoughts; and 127 people reported it impacted saving their marriage.
We provide a mix of local and national family-friendly, faith-filled programming that bring the Good News of Jesus Christ to listeners and fills the airwaves with truth.
S​​​pirit Catholic Radio does not ask for funding from any diocese and is listener-supported. We're YOUR Catholic radio station.

Spirit Catholic Radio is a 501(c)(3) nonprofit organization.
Contributions are tax deductible as allowed by law.
EIN/tax ID number: 91-1857425