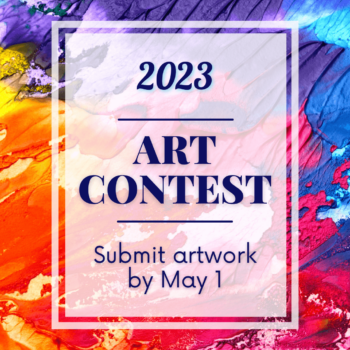 In years past, we have featured our winning art contest submissions in calendar form – which were distributed to Catholic elementary schools across our listening area. New this year, we are turning winning art submissions into prayer cards! These cards will be available at our in-person events and given to schools in our listening area. Thanks to the Knights of Columbus for co-sponsoring our 2023 art contest!

Entering the 2023 Art Contest is simple:
If you are in Kindergarten through 8th grade, pick from one of the three themes listed below
Use a 6.5 inch tall by 8 inch wide white paper
Create your themed artwork using any original technique you'd like (except computer)
Submit your artwork to us via mail or by dropping it off at our Omaha studio
13326 A Street
Omaha, NE 68144
Attn: Art Contest
Entries are due by May 1, 2023*
*With your submission, please include the information found in the label example below (or feel free to print it out and attach it to your submission).
If you are a teacher submitting your class's artwork, please ensure each submission has this information on it in case the art submissions get separated from one another.
GOOD LUCK!! We can't wait to see what you come up with!
---
THEMES (pick from one of these)
The Archangels (the leaders of all angels and the champions of all Christians)
Holy Communion (the Real Presence of Jesus and the source and summit of our lives)
Veni, Sancte Spiritus! (Come, Holy Spirit into our hearts and souls)

---
This year, we will select one winner from each grade category and art theme, meaning we will choose 3 winners from Kindergarten-2nd grade, 3 winners
from 3rd-5th grade, and 3 winners from 6th-8th grade! Winners will be notified after May 1, 2023.