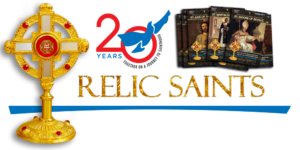 As a part of our 20th Anniversary Celebration theme, "Together on a Journey to Sainthood," we're bringing saints to YOU every month through "Relic Saints."
"Relic Saints" provides a month-long opportunity to venerate a real, first-class relic of a different saint each month in our Omaha and Lincoln studios.
You'll also receive a FREE prayer card specific to the Relic Saint you're visiting!

July Relic Saints Schedule
From now through the end of the month, you can come to these studio locations to see the Relic Saints of the month:
Omaha | Map
St. Teresa of Avila & St. Maria Goretti
Visit between 9 a.m. and 4 p.m., Monday through Friday
Lincoln | Map
St. Lucy Filippini
Visit on Mondays and Wednesdays from 9 a.m. to 4 p.m.
---
---
About July's Saints
St. Lucy Filippini
Co-foundress of the Italian institute of theMaestre Pie, the Filippine. Also listed as Lucia, she was born in Tuscany, Italy. With Rosa Venerini, Lucy started training schoolmistresses at Monte Fiascone. The institute evolved from this work. Lucy was canonized in 1930.
Info courtesy Catholic Online
St. Teresa of Avila
Teresa lived in an age of exploration as well as political, social, and religious upheaval. It was the 16th century, a time of turmoil and reform. She was born before the Protestant Reformation and died almost 20 years after the closing of the Council of Trent.
The gift of God to Teresa in and through which she became holy and left her mark on the Church and the world is threefold: She was a woman; she was a contemplative; she was an active reformer.
As a woman, Teresa stood on her own two feet, even in the man's world of her time. She was "her own woman," entering the Carmelites despite strong opposition from her father. She is a person wrapped not so much in silence as in mystery. Beautiful, talented, outgoing, adaptable, affectionate, courageous, enthusiastic, she was totally human. Like Jesus, she was a mystery of paradoxes: wise, yet practical; intelligent, yet much in tune with her experience; a mystic, yet an energetic reformer; a holy woman, a womanly woman.
Teresa was a woman "for God," a woman of prayer, discipline, and compassion. Her heart belonged to God. Her ongoing conversion was an arduous lifelong struggle, involving ongoing purification and suffering. She was misunderstood, misjudged, and opposed in her efforts at reform. Yet she struggled on, courageous and faithful; she struggled with her own mediocrity, her illness, her opposition. And in the midst of all this she clung to God in life and in prayer. Her writings on prayer and contemplation are drawn from her experience: powerful, practical, and graceful. She was a woman of prayer; a woman for God.
Teresa was a woman "for others." Though a contemplative, she spent much of her time and energy seeking to reform herself and the Carmelites, to lead them back to the full observance of the primitive Rule. She founded over a half-dozen new monasteries. She traveled, wrote, fought—always to renew, to reform. In her self, in her prayer, in her life, in her efforts to reform, in all the people she touched, she was a woman for others, a woman who inspired and gave life.
Her writings, especially the Way of Perfection and The Interior Castle, have helped generations of believers.
In 1970, the Church gave her the title she had long held in the popular mind: Doctor of the Church. She and St. Catherine of Siena were the first women so honored.
Information courtesy of Franciscan Media.
St. Maria Goretti
One of the largest crowds ever assembled for a canonization—250,000—symbolized the reaction of millions touched by the simple story of Maria Goretti. She was the daughter of a poor Italian tenant farmer, had no chance to go to school, never learned to read or write. When Maria made her First Communion not long before her death at age 12, she was one of the larger and somewhat backward members of the class.
On a hot afternoon in July, Maria was sitting at the top of the stairs of her house, mending a shirt. She was not quite 12 years old, but physically mature. A cart stopped outside, and a neighbor, 18-year-old Alessandro, ran up the stairs. He seized her and pulled her into a bedroom. She struggled and tried to call for help. "No, God does not wish it," she cried out. "It is a sin. You would go to hell for it." Alessandro began striking at her blindly with a long dagger.
Maria was taken to a hospital. Her last hours were marked by the usual simple compassion of the good—concern about where her mother would sleep, forgiveness of her murderer (she had been in fear of him, but did not say anything lest she cause trouble to his family), and her devout welcoming of Viaticum, her last Holy Communion. She died about 24 hours after the attack.
Alessandro was sentenced to 30 years in prison. For a long time he was unrepentant and surly. One night he had a dream or vision of Maria gathering flowers and offering them to him. His life changed. When he was released after 27 years, his first act was to beg the forgiveness of Maria's mother.
Devotion to the young martyr grew, miracles were worked, and in less than half a century she was canonized. At her beatification in 1947, her 82-year-old mother, two sisters, and her brother appeared with Pope Pius XII on the balcony of St. Peter's. Three years later, at Maria's canonization, a 66-year-old Alessandro Serenelli knelt among the quarter-million people and cried tears of joy.
Information courtesy of Franciscan Media.