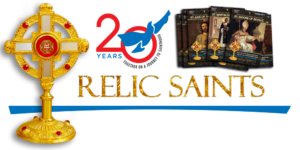 As a part of our 20th Anniversary Celebration theme, "Together on a Journey to Sainthood," we're bringing saints to YOU every month through "Relic Saints."
"Relic Saints" provides a month-long opportunity to venerate a real, first-class relic of a different saint each month in our Omaha and Lincoln studios.
You'll also receive a FREE prayer card specific to the Relic Saint you're visiting!

September Relic Saints Schedule
From now through the end of the month, you can come to these studio locations to see the Relic Saints of the month:
Omaha | Map
St. John Neumann
Visit between 9 a.m. and 4 p.m., Monday through Friday
Lincoln | Map
St. Achille
Visit on Mondays and Wednesdays from 9 a.m. to 4 p.m.
---
About September's Saints